News articles from August 2012
Harry Potter Fan Zone meets Evanna Lynch at LeakyCon 2012
22 August 2012 at 12:15 GMT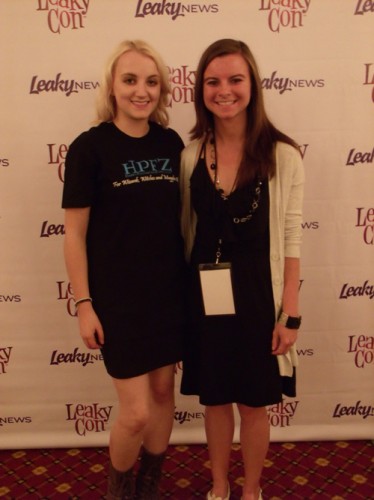 HPFZ's David and Toni Gras recently attended LeakyCon 2012 in Chicago where, among many Potter festivities, they caught up with actress Evanna Lynch — Luna Lovegood in the 'Potter' films (check out her fantastic choice of shirt!). Their report follows:
Potter Passion Prevails! That is the thought of these three reporters from Harry Potter Fan Zone, as we observed and participated in The Leaky Cauldron's third conference, LeakyCon 2012, at the Hilton Towers in Chicago on famed Michigan Avenue from Thursday, August 9 – Sunday, August 12, 2012. The 3800+ fans overtook the Hilton hotel as they roamed the hallways and lobbies dressed in both normal and Potter gear. Huge LEAKYCON banners draped the inner lobby of the Hilton and a Hogwarts castle-like backdrop was displayed on the main stage area to help get us in the mood. The number of attendees was overwhelming, this being the largest LeakyCon conference, beating last year's conference in attendance by approximately 800. This itself says something about the excitement that LeakyCon permeates as Chicago boasts no Potter-themed attractions – which means that all 3800 people came for the conference itself.
As conferences go, we can honestly say that we have never experienced the immense amount of passion and excitement from attendees that we witnessed here. Harry Potter brought together all the attendees in friendship and The Leaky Cauldron web site has helped to cultivate and grow Potter Passion which J.K. Rowling started over 15 years ago – for some of the fans present, they were just barely born but yet they mingled with other Potter fans from near and far at this conference. We could sense the feelings of bonding and closeness with those who feel as passionate about the Potter saga as we do.
Our first day, Thursday, August 9, we had the wonderful opportunity to sit in on two press-only conferences, first with some of the actors from the famed "Star Kid" troupe and secondly with the Harry Potter movie actors that were present at the conference which included Robbie Jarvis (the young James Potter), William Melling (Nigel Wolpert), and the ever-friendly, bubbly and lovely Evanna Lynch (Luna Lovegood). Our HPFZ reporter sat with Evanna for several minutes asking her various questions and Evanna's sweet and humble nature came forth as she talked about her identification with the character of Luna and what Luna has done for her personally.