News articles tagged 'Bonnie Wright'
Bonnie Wright (Ginny Weasley) visits the 'Harry Potter' theme park in Hollywood
10 December 2016 at 01:15 GMT
Bonnie Wright, the actress who played Ginny Weasley in all eight Harry Potter films, recently visited the Wizarding World of Harry Potter theme park in Hollywood. Universal has sent over a picture of Bonnie at the park, check it out below.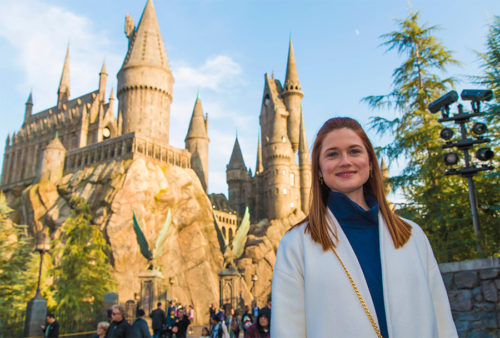 Bonnie Wright (Ginny Weasley) talks life after Harry Potter, future endeavours
28 July 2015 at 23:32 GMT
Bonnie Wright, Ginny Weasley in all eight Harry Potter films, was recently profiled by OKREAL where she chatted candidly about life after 'Potter', growing up in the spotlight, and future acting and directing endeavours. Speaking about her 'Potter' journey, Wright said:
Harry Potter was 10 years of my life, and when you finish a huge chapter like that, it's this exciting new phase where you want to do new things. So then you start doing the new things, and you begin questioning yourself, thinking—is this truly what I want to be doing? When I started Harry Potter, I was fresh and young, and in a way, when I finished I was too. Because it's such a particular world. It was one of those things you thought you had perspective on, but really didn't until you were out of it.
So what's Bonnie doing four years on from 'Deathly Hallows'? She's currently filming The Highway Is for Gamblers, due for release later this year, and doing charity work with Oxfam and the Global Poverty Project, adding, "I want to use the privilege I have of a voice to help". Way to go, Bonnie.
You can continue reading the insightful piece over at OKREAL.