Dan Radcliffe & David Heyman elaborate on DH split
22 April 2009 at 00:17 GMT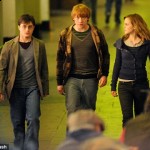 In an interview with Empire magazine, Daniel Radcliffe and David Heyman elaborated about the "split scene" dividing Deathly Hallows: Part 1 and Deathly Hallows: Part 2:
"We've played around with a couple of places," said Heyman, "and ultimately settled on a place that we think is very exciting, and I think quite bold, in that it's not necessarily where one might expect. You want to give a sense of completion, on one hand, but a sense that there's another piece, more to come. We tried one and then Steve (Kloves, screenwriter) came up with the idea to try it another way and when we tried that, it felt just right."

Daniel Radcliffe added that the split is "at a very tense cliffhanger," which may be a bigger clue for fans.
Tell us where you think Part 1 will end in the comments!
Comments
Click here for an RSS feed of this comments page.