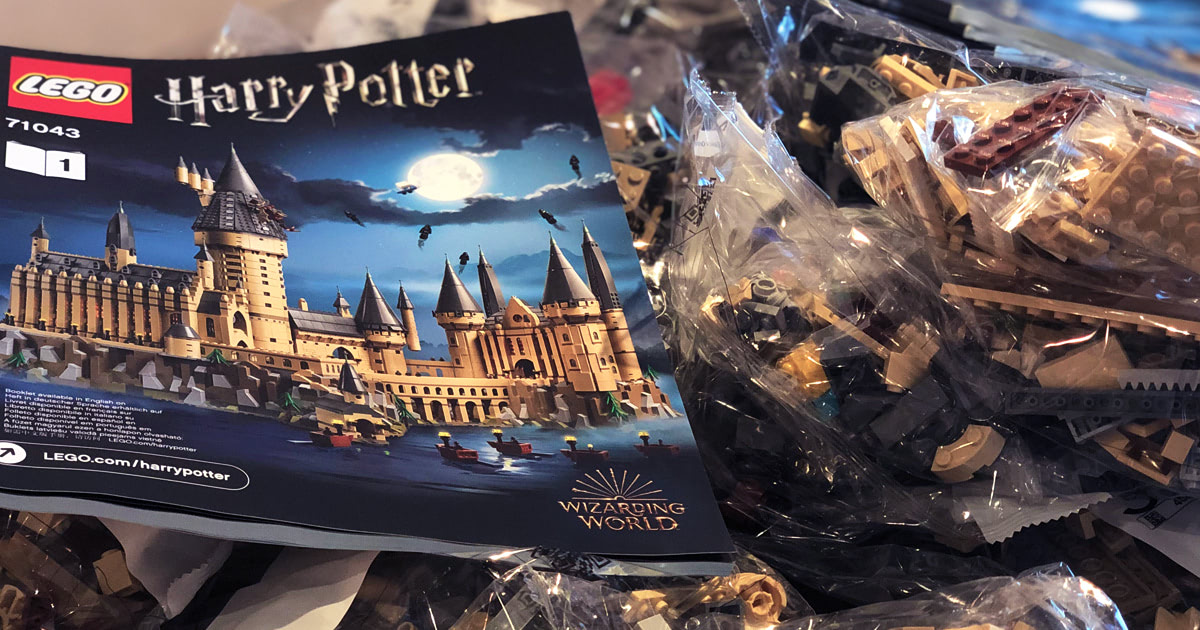 When I was about eight or nine years old, the one thing I wanted more than anything in the world was a LEGO castle. The brick megastructure I had my eye on cost three-figures (unfathomable and totally unattainable through chores) and included a ghost that — wait for it — glowed in the dark. Two decades later and that childhood dream has finally been fulfilled (with interest) thanks to LEGO's epic 6000-piece Hogwarts Castle; the second largest set the brick giant has ever manufactured.
LEGO are no strangers to building castles. They've produced numerous generic iterations of the classic childhood kit since those early 90s days, and the introduction of a movie tie-in Harry Potter themed line of sets in 2001 gave the company an opportunity to evolve those designs by transforming Hogwarts School of Witchcraft and Wizardry into bricks and studs. In fact, so popular is the British wizarding school that LEGO actually manufactured four unique Hogwarts sets between 2001 and 2017.
However, none of those discontinued builds compare in scope or scale to Hogwarts Castle (71043), an epic 'microscale' (more on that later) structure constructed from 6000 individual pieces of LEGO. It's the second largest set the company has ever produced — a thousand or so pieces behind Star Wars' Millennium Falcon spacecraft — and the brainchild of 'Potter' superfan and LEGO designer Justin Ramsden. At $399 USD, school fees aren't cheap, but the construction techniques and abundant theming and detail make the build a magical experience worth every Galleon.
All up, my Hogwarts education took roughly a month of on-and-off building, but this is definitely the kind of set you could construct over the luxury of a free weekend. The journey starts with an enormous blue box — a structure itself that dwarfs all other 'Potter' products on the shelf. Inside are thirty-seven sequentially numbered bags of LEGO for stage-by-stage building, four thick instruction booklets and four (!) sticker sheets. Alongside the main castle structure, which, for manoeuvrability, is constructed in two separate sections, are four short standalone builds: a minifigure display of the four Hogwarts founders, a Whomping Willow (complete with tiny Ford Anglia), Hagrid's Hut and five small arrival boats.
Aptly, the build begins with the small Hogwarts Boathouse, a nod to Harry's journey to the castle as a first year in Philosopher's Stone. From there, you work your way up through lots of fiddly stone and rock facade and into the Chamber of Secrets — complete with manoeuvrable snake. The build moves above ground with the Hogwarts Great Hall, courtyard, and a large tower structure containing moving staircases, a bathroom and Dumbledore's grandiose office. The second structure includes more courtyard and viaduct, classrooms, a Gryffindor Common Room and the Room of Requirement, as well as a sequence of underground dungeons themed around the Devil's Snare, chessboard and winged-key scenes from Philosopher's Stone. There's also a bunch more exterior stone and rock in case you haven't had your fill yet.
LEGO have been able to cram so much story into the build largely thanks to their decision to go microscale. Microscale is common for large architectural LEGO structures and it enabled the designers to incorporate more of the castle and surrounds without necessitating you clear an entire room (or find a turret bursting through the ceiling) to build it. As a display piece, microscale feels like a perfect decision, largely because the finished structure is still so substantial. Scale issues only become apparent if you display the build alongside other LEGO Harry Potter sets, where existing 'Potter' minifigures will feel Hagrid-sized next to the twenty-seven staff and student fingernail-sized 'microfigs' included in the set. (Be careful, they're a perfect size for both feet and vacuum cleaners.)
From a LEGO perspective, the build felt both complex and challenging without ever feeling particularly onerous or repetitive. In a Harry Potter LEGO set you expect to find rotating staircases, moving platforms and elements of creative magic (the 'flying' Dementors are really neat), but what I really admire are some of the incredibly clever build techniques. Two large panels of stained glass window constructed from a combination of translucent studs look amazing when illuminated, and the many round towers and turrets are the product of smaller-engineered panels cleverly hinged and rotated into place (LEGO says they borrowed techniques from a NASA Saturn V rocket set — awesome!).
Likewise, there's some really crafty 'less is more' construction with the side builds: the instantly-recognisable Ford Anglia is literally built with three tiles. The 16+ age recommendation is probably justifiable here too. While the instructions are perfectly clear, I definitely had to concentrate throughout to make sure small additions to the rocky facade (which aren't always explicitly labelled) weren't overlooked.
And while the structure itself is definitely an incredible feat of LEGO engineering, it's the layers of nostalgic Harry Potter detail sprinkled throughout the interior that make this build so enjoyable. From entire classrooms to superfan easter eggs (see: tiny Vanishing Cabinet tucked away in the Room of Requirement), you'll find creative nods to all seven 'Potter' books within. The Hungarian Horntail dragon, Professor Umbridge's delightfully pink office, the life-size chessboard and Gilderoy Lockhart's detailed Dark Arts classroom all made me smile. In an effort to jam-pack story elements the design team have rightfully taken some geographical and chronological liberties, as well as conflated some spaces (a single bathroom for both the Golden Egg and Chamber of Secrets entrance scenes for example). That being the case, you should suspend any 'the castle must appear totally canon' expectations.
With all of those incredibly detailed set pieces and architectural elements packed into a single build, the finished castle is understandably large — and fragile. The two castle sections (which sit flush without actually being physically joined) make manoeuvrability somewhat easier, but you do need to be careful if you're going to rotate the build and alternate between displaying the exterior or interior faces. LEGO actually provide some tips for holding and moving the structure, and I'd recommend going one further and building the castle in the place you intend to display it. Even rotating the sections during construction would often cause the odd tree, lamp or triangular piece of rocky facade (fun fact: LEGO call these pieces 'cheese slopes') to fall off. Make sure you've got a picture of the castle on hand for touchups.
My only gripe with this otherwise spectacular build seems to be a common source of irritation in the LEGO community — the dreaded sticker sheets. I appreciate this isn't a fault of design, but an economical manufacturing decision by LEGO. Custom printed tiles likely aren't cheap. That said, a multi-hundred dollar hero set feels significantly cheaper when decorated with stickers. If you've ever tried to apply one of those clear plastic protective covers to a smartphone screen, you'll know what I'm talking about. The larger stickers — especially doors, portraits and elements of signage — are crucial, and you've got exactly one go (else this) at getting them razor-straight and free from air bubbles. Full disclosure: there's a front-door sticker on my castle that is irritatingly skewed, and the microfigure I'm hiding in front of it isn't doing a stellar job of covering my mistake. Given how generous LEGO are with providing spare bricks for crucial elements, I feel some additional stickers wouldn't go amiss.
Minor sticker gripes aside, LEGO's latest Hogwarts Castle is nothing short of a master build. For Harry Potter fans, the scale of the build and the masterful application of story theming make this the definitive Wizarding World LEGO set. And for LEGO enthusiasts of all ages, the whopping piece count and assortment of clever building techniques make it an enticing addition to any brick collection.
There's somewhat of a Harry Potter renaissance happening at LEGO right now with seven new sets dropping this year alone. It'll be interesting to see what the company has planned next. Until then, there's a castle full of surprises (and a bunch of additional locations and scenes) for fans to construct. In a LEGO deep-dive I discovered that the castle's epic piece count — 6020 to be exact — is an intentional nostalgic reference to #6020, a LEGO Castle set from 1993 that ignited designer Justin Ramsden's childhood passion for building LEGO. I feel in good company.