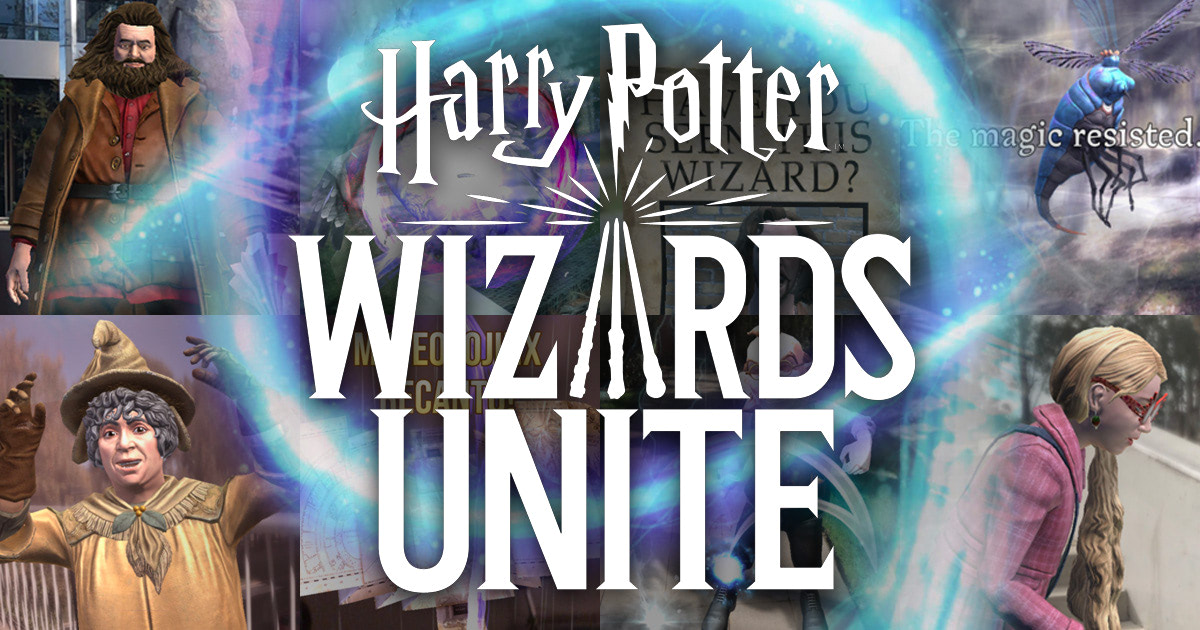 Unless you're hunting the Wagga Wagga Werewolf or searching the skies for a Billywig (that's a sapphire-blue insect native to Australia for you Muggles out there), J.K. Rowling's Wizarding World is largely devoid of Down Under adventures. However, that changed this month when Wizards Unite, the new augmented reality mobile game from the talented team behind Pokémon GO, dropped exclusively for Antipodean fans.
Harry Potter: Wizards Unite is a collaboration between Niantic and WB Games. The former is the studio behind Pokémon GO, the phenomenally successful augmented reality game that swept across the world in mid-2016. The concept is simple and addictive: players search real-world locations to interact with and 'capture' wild Pokémon critters. Niantic's Harry Potter entry builds on that concept. Replace Pikachu and friends with Wizarding World people, creatures and artefacts (plus a sprinkling of signature Rowling story dust) and Harry Potter: Wizards Unite is born.
The game's official release date is unknown, but a beta version (mostly complete but with some understandably rough edges and missing features) was released to Australian fans in early May, and I spent a weekend putting the gameplay through its paces. Over three days I uncovered Wizarding World characters and creatures, battled dark magic, brewed potions, unlocked Portkeys, and was told off by a flying Ford Anglia for walking too fast. The big question: does Wizards Unite have what it takes to create an enormous cultural crater like its Nintendo predecessor?
Magic is appearing in the Muggle world
In Harry Potter: Wizards Unite, a mysterious event ('The Calamity') has befallen the magical world and, according to Niantic's preamble, is causing artefacts, creatures, people and memories to appear in the Muggle ('real') world. As members of the Ministry of Magic's Statute of Secrecy Task Force, it is our job to find and return those objects ('Foundables'), defeat magic wreaking havoc ('Confoundables') and solve a story mystery which culminates in the cause of 'The Calamity' itself. Sign me up!
Downloading and installing the app on iOS was, as expected, straightforward. When first launched you're met with a welcome and loading screen then asked to register. Your personal details are private, but you can set a codename that's visible to other players in the area (more on that later). After some explanatory prompts and a tutorial on interacting with Foundables (Hogwarts gamekeeper Rubeus Hagrid is the first tutorial-style Foundable to 'send home') it's time to visit the home screen map and get exploring.
The game's home screen is a map of your current area with locations significant to your quest marked. These locations include Foundables, Inns, Fortresses and other collectibles. Three buttons along the bottom of your screen let you access your profile, suitcase and assignments. The suitcase is the area you'll visit the most. It includes a registry that documents all the Foundables to, er, find; a vault of additional objects you've collected (potion ingredients, keys, Portkeys etc.); and extra gameplay features like lessons.
A wild Luna Lovegood appeared
After the obligatory setup steps I'm intrigued to start finding characters and decide to take a walk. A quick stroll down to my local park and I meet my first wild Pikac—er, Foundable. Foundables are marked by a glowing pin, and the pin's logo and colour determines the type of Foundable you're about to interact with (creature, Dark Arts artefact, Ministry figure, Hogwarts student etc.). Tap on the marker and your phone's camera is opened in 'AR+' mode. I search high and low for any traces of magic before none other than Luna Lovegood appears, neatly and authentically composited on some concrete steps (side note: this whole AR technology still feels incredibly cool).
To 'return' a Foundable to the Wizarding World you'll need to cast a spell and defeat the Confoundable magic in your path. The app will tell you the spell you need to cast and a pattern you'll need to 'trace' with your finger. My first attempt is terrible and the Confoundable resists me. A second go at casting the Ebublio Jinx is more successful and the Confoundable magic is defeated. A quick trip to the registry tells me that I've collected only a 'fragment' needed to return Luna to the Wizarding World. While some Foundables are returned after a single encounter, more recognisable characters and objects must be found multiple times across multiple locations.
I wander some more and visit an Inn — a sort of rest stop where you can collect and recharge your 'spell energy' with food and drink, pick up a bunch of potion ingredients (Granian hair and Runespoor eggs among others) and visit a Fortress. Fortresses allows multiple players to join forces and progress through group challenges. Unfortunately I didn't encounter any other players during my stroll, so it was onto the next location, but not before finding and returning a fragment of Peeves and a Flesh Eating Slug.
The Dark Lord in the living room
I venture into the city centre next, then off to my local sports stadium to watch a Rugby game. Along the way I find and return a couple of escaped Mountain Trolls, some Cornish Pixies, a Ravenclaw student, a fragment of a portrait of Bellatrix Lestrange and an adorably cute baby Hippogriff. That night (side note: it's cloudy tonight and I'm told the weather affects the distribution of Wizarding items — neat!) I decide to have some fun and see if I can find anything in my living room. I find and return none other than a fragment of a portrait of the Dark Lord himself (eep!). I take a quick wander around my apartment building and find a lost Slytherin student in need of some assistance.
And therein lies the addictive mechanism of Harry Potter: Wizards Unite. I'm hooked. Over the course of the weekend I take a wander around the lake near my apartment and find and return Professor Sprout, a fragment of Ron Weasley, an Erumpent, the Marauder's Map, a Sirius Black 'wanted poster' and a bunch of Dark Arts artefacts (including a mysterious Hand of Glory). At one point I encounter a group of people playing Pokémon GO and wonder if Wizards Unite will have similar staying power come its Northern Hemisphere release later this year.
Throughout my experience with Wizards Unite, adventure was never too far away. A quick stroll would always yield at least five unique Foundables to interact with, and potion ingredients, Inns and Fortresses feel appropriately scattered across the landscape. The story maps are incredibly detailed (even, surprisingly, in more remote suburban areas) and the creative integration of real-world locations is very clever. Obviously, much of this is leveraged from Niantic's extensive Pokémon GO mapping.
Much of the gameplay revolves around incentivising exercise
Foundables aside, much of the gameplay revolves around incentivising exercise — and that's really great. Among your many daily tasks is an exercise goal to complete ('walk 0.7 kilometres'), and many of the objects, locations and quests reward your physical endeavours. Walk a Portkey a fixed distance and you'll be able to open it. Return to an Inn after five minutes and you can collect more spell energy. Collect a fixed number of Foundables in a twenty-four hour period and you'll likely level up.
It's important to note that none of this feels overly taxing and there's no physical barrier to entry. This is a game for everyone and anyone. The only requisite is being a 'Potter' fan (or a Fantastic Beasts fan given the number of its creatures I encountered). You can move at your own pace and complete tasks when they suit you. The goals feel achievable and the power of gamification is very real when it comes to finding and adding Wizarding World characters to your registry. You want stickers, and if you're going to collect them all (excuse the cross-franchise pun), it's going to take time.
Over the course of a weekend I levelled up five times (I hit level three in the first fifteen minutes and things became more complicated after that), became an Auror (you can choose a profession at level six), walked six kilometres and added forty-three Foundables to my registry. Spells became harder to perform and the Foundables I discovered became more exciting (less Goblins, Trolls and Flesh Eating Slugs and more familiar Hogwarts faces). I brewed potions to increase my spell casting ability and worked my way though some Calamity-solving side mysteries.
Bugs of both the Wrackspurt and software nature
Understandably, my 2017 iPhone X (AR capable but certainly no Firebolt) battery life suffered with constant use. In AR mode my battery dropped about ten percent in the space of fifteen minutes, but overheating issues were non-existent and I never yearned for a cooling jinx. An option to download all assets (just over 2GB) over a WiFi network before I started playing was a nice touch and, as such, the animations and interactions felt smooth and without any noticeable lag. Options to restrict animations and turn off the looping symphony of John Williams music ought to help there too.
Being a beta release I had prepared myself for bugs of both the Wrackspurt and software nature. I needn't have worried — things actually felt very polished. The game crashed a couple of times and threw me back to the home screen (including once during setup), and I noticed a couple of instances where Foundables appeared and then mysteriously vanished before I could interact with them. On more than a few occasions the app thought I was driving (I promise I was not) and told me to slow down. I did get a little sick of the same cutesy Ford Anglia graphic telling me to anchor myself on the ground. But minor quibbles aside, the AR technology and actual gameplay mechanics felt incredibly refined.
For the casual player, the quest for Foundables will be the primary objective
Will the Muggle world fall under the spell of Harry Potter: Wizards Unite in the same way Pokémon GO captivated a planet of participants? In this author's opinion: maybe. Wizards Unite builds on the same gameplay concepts that made Pokémon GO so accessible and addictive. Those ideas feel a little more organic in the Pokémon universe where characters naturally turn up in the wild. Wizards Unite feels like a case of concept-came-first with a story woven around it.
But that story certainly feels compelling. For the casual player (I include myself there), the quest for Foundables will certainly be the primary objective. Solving the mystery of The Calamity, completing Auror (or some other career) lessons and competing in group challenges is intriguing (and certainly broadens the game's appeal to an advanced set of gamers), but the augmented reality find and collect mechanism (especially as well-known characters present themselves) is where the magic lies.
Whether Pokemon GO's appeal is largely because it was the first of its kind (and captured some once-in-a-lifetime spirit of its time) is something we'll know later this year. The success of Hogwarts Mystery, the Wizarding World's first entry into mobile gaming, is proof that fans of Rowling's work will embrace new technology and narrative expansion of her universe. Wizards Unite is gearing up for an official release later this year with a bold and viral marketing campaign, and Niantic are clearly expecting big things.
J.K. Rowling's seven stories about an orphaned Boy Wizard turned an entire generation onto the power of reading. Whether she has, by association, that same ability to get a new generation of fans exercising is an interesting prospect. Those who I spoke to while playing the game didn't immediately know the name Wizards Unite but were largely aware (and excited) that there was 'a Pokémon GO for Harry Potter' on the horizon. Time to watch this space.
Until then, I've got a rogue Billywig to track down.
***
Andy McCray is based in Canberra, Australia and played the official beta version of Harry Potter: Wizards Unite (1.8.0 at the time of writing) on a 2017 iPhone X running iOS 12.2. He was definitely not driving.