'Deathly Hallows: Part 1' takes in $24 million on opening night in America
20 November 2010 at 06:38 GMT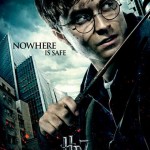 Variety is reporting that Harry Potter and the Deathly Hallows: Part 1 has earned $24 million from opening night midnight screenings. The film screened in 3,700 locations across North America.
So how does that compare? In 2009, Harry Potter and the Half-Blood Prince earned $22.2 million on opening night, while Order of the Phoenix earned $12 million in 2007 and Goblet of Fire earned $6 million in 2005.
The highest-grossing opening weekend belongs to the The Dark Knight, also from Warner Bros., which earned $158.4 million. Deathly Hallows: Part 1 is estimated to earn $132 million over the weekend, though "some predictions place it as high as $157 million".
What did you think of Deathly Hallows: Part 1. Is it the best adaptation yet?
Comments
Click here for an RSS feed of this comments page.