Exclusive preview of our 'Harry Potter and the Deathly Hallows: Part 2' set report
4 May 2011 at 17:05 GMT
Last year Harry Potter Fan Zone visited Leavesden Studios where cast and production crew were busy at work on both instalments of Harry Potter and the Deathly Hallows.
We posted a report detailing everything we saw relating to Deathly Hallows: Part 1 last October, but much of the trip was spent looking at many of the juicy photos, props and sets designed for Deathly Hallows: Part 2.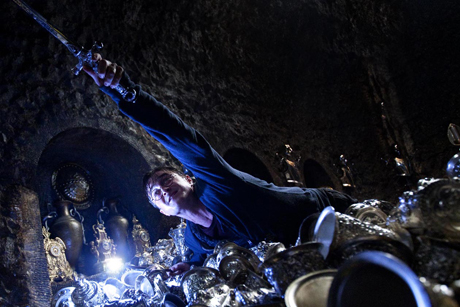 While we can't share the full report just yet, we can offer a few teasers today. There's much more to come leading up to July, including details of our experience watching Alan Rickman (Snape) and the cast hard at work filming a climactic scene during the Battle of Hogwarts.
What's to come?
We revisit the Chamber of Secrets where Ron and Hermione share an intimate moment. You'll actually see the Chamber in the film. The Basilisk is also back, this time as a decaying skeleton.
Gringotts has been greatly expanded too. Production staff are hard at work on building the giant dragon which dwells below the bank and, on our visit, we're given a look at the motion control rig that Dan, Emma and Rupert will ride.
"Harry Potter will never set foot in this castle again" utters Alan Rickman during the filming of a scene in the Great Hall. There are shouts. Statues come alive. We watch numerous takes as the actors perfect this climactic moment.
Of course, we have much to report on the King's Cross scene (there's a really cool Voldemort doll), the epilogue, the Battle, a certain death scene and many other action packed and emotional moments in Deathly Hallows: Part 2, but that will have to wait for now.
Stay tuned!
Click here for an RSS feed of this comments page.