← Back to all illustrated editions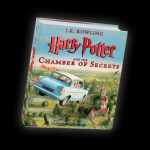 The Harry Potter and the Chamber of Secrets illustrated edition was released in October 2016. Like its predecessor, it features gorgeous illustrations by artist Jim Kay. You can check out artwork from the illustrated edition (how cool is Dobby!) below.
We had the chance to interview Jim Kay in 2015, and he talked about some of the Chamber of Secrets artwork. You can read that by clicking here.
Jim Kay is currently at work on the Prisoner of Azkaban illustrated edition. We anticipate that it'll be released in October 2017 and that we'll see jacket artwork early next year.
Read our review of the 'Chamber of Secrets' illustrated edition