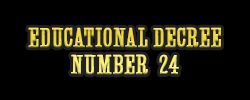 What's Dolores Umbridge's favourite font? Hint: it's the one used on her educational decree proclamations to outlaw behaviour at Hogwarts. This font is inspired by the educational decrees as seen in Harry Potter and the Order of the Phoenix.
Download link appears below advertisement
Download Educational Decree font (.zip, 22KB)
More free Harry Potter fonts
Looking for more free Harry Potter fonts?
Download more of our favourite Wizarding World fonts below.