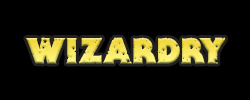 Add a magical touch to any project with Wizardry, a Harry Potter themed font that captures the magic of spells, potions, incantations and all things Wizarding World. Just swish and flick!
Download link appears below advertisement
Download Wizardry font (.zip, 82KB)
More free Harry Potter fonts
Looking for more free Harry Potter fonts?
Download more of our favourite Wizarding World fonts below.