9 January 2017 at 02:01 GMT
It is with great sadness today that I share the news that Toni Gras — a long-time friend and contributor to Harry Potter Fan Zone — has passed away.
I first met Toni at the Goblet of Fire premiere in New York City in 2005. Over the last decade, Toni was a regular contributor to the site, representing HPFZ at Harry Potter related events and conferences around the world. Her contributions weren't limited to the content she wrote, equally touching was her unbridled enthusiasm, support and kindness.
If there's one thing the Harry Potter journey has fostered, it's a global sense of community. Toni was the embodiment of that community spirit. So to Toni's family, my sincerest condolences. And to Toni, thanks for the part you played in making HPFZ what it was, is, and will be to future 'Potter' generations.
In the words of Albus Dumbledore, "death is but the next great adventure".
Check out 3 new 'Fantastic Beasts and Where to Find Them' textbook covers
6 January 2017 at 02:32 GMT
In March, Scholastic, Bloomsbury and Pottermore will publish a new edition of the Fantastic Beasts and Where to Find Them charity textbook with a brand new forward from author Newt Scamander (Rowling).
The editions feature three brand new cover illustrations (depending on your region), and will include brand new illustrations of many of Rowling's magical creatures by artist Tomislav Tomic.
The new Fantastic Beasts textbook will be available in both eBook and published format from 14 March.
Bonnie Wright (Ginny Weasley) visits the 'Harry Potter' theme park in Hollywood
10 December 2016 at 01:15 GMT
Bonnie Wright, the actress who played Ginny Weasley in all eight Harry Potter films, recently visited the Wizarding World of Harry Potter theme park in Hollywood. Universal has sent over a picture of Bonnie at the park, check it out below.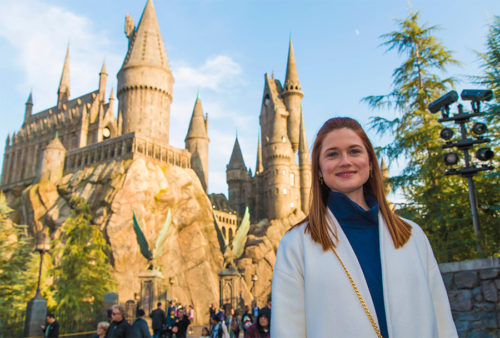 Composer James Newton Howard confirms involvement with 'Fantastic Beasts 2', talks about scoring process
17 November 2016 at 22:38 GMT
A new interview with James Newton Howard confirms the composer will score the Fantastic Beasts and Where to Find Them sequel. The composer also talks about the scoring process for the current Fantastic Beasts film, following the legend that is John Williams, and career highlights.
Asked about whether scoring a film like Fantastic Beasts was a daunting prospect, Newton Howard said, "Absolutely. I was very nervous. Well, I don't know if nervous is quite the word. I think to do anything out of one's comfort zone, there has to be some aspect of it that feels inspiring and challenging in a positive way … I think I understood the world, I understood the script, I had great conversations with David Yates, and I felt prepared to dive in."
And on following John Williams (who scored the first three Harry Potter films): "I would describe inheriting a franchise where John Williams has written unforgettable thematic material for the last 15 years and being asked to re-create the melodic world as slightly uncomfortable. I seek those kinds of jobs out … we tip our hat and acknowledge in a respectful and witty wink and a nod kind of way to "Hedwig's Theme". (Aside: I [Andy] counted three references in the score.)
Finally, Newton Howard talked about the scoring process itself — it took seven months — and confirmed his involvement with at least the next Fantastic Beasts film: "David and I have talked about it. I'm certainly doing the next one, he's asked me to do it. We had a pretty incredible time together on this one, so I will certainly be doing that one. Beyond that, who knows?"