MinaLima reveal third 'Harry Potter' movie graphic art print
31 August 2019 at 19:03 GMT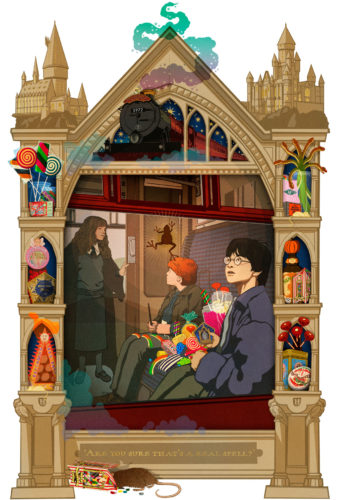 Our friends and Harry Potter graphic designers Miraphora Mina and Eduardo Lima (MinaLima) have revealed the third in their movie moment graphic art series, titled 'Are You Sure That's A Real Spell?'.
The numbered print celebrates the trio's first journey aboard the Hogwarts Express on September 1 and is available in both a standard and premium finish over at MinaLima's website. The first two prints in the series celebrate Harry's wizarding discovery and his journey through Diagon Alley, respectively.
In addition, MinaLima revealed a gorgeous new limited edition map of Hogwarts and grounds based on their incredible graphic design work for the 'Potter' films.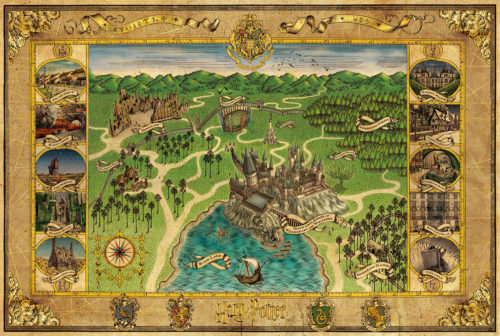 Tags:
MinaLima
-
Comments Off

on MinaLima reveal third 'Harry Potter' movie graphic art print
-
Permanent Link
Bloomsbury unveil 20th anniversary house editions of 'Goblet of Fire'
30 August 2019 at 17:19 GMT
Bloomsbury will publish the fourth of their 20th anniversary house edition series of novels with the release of Harry Potter and the Goblet of Fire on 23 January. Goblet of Fire was first published in the UK on 8 July 2000. This anniversary release comes only seven months after Prisoner of Azkaban and sees the fourth series of house editions released in time for the publisher's Trwizard Tournament themed book night.
The four Goblet of Fire house editions will be published in both paperback and hardback and feature intricate cover and internal artwork by illustrator Levi Pinfold. Common to each edition is the central illustration of the flaming Goblet, while a vignette of iconography unique to each house adorn the jackets.
For Goblet of Fire, those illustrations feature an 'element' specific to each house: fire, earth, air and water. The red Gryffindor house edition (fire) is bordered by Sirius Black's head in the fireplace, a Hungarian Horntail, Harry on his Firebolt and Mad-Eye Moody's magical eye. The blue Ravenclaw edition (air) and yellow Hufflepuff edition (earth) include the Beauxbatons Carriage, wandmaker Ollivander, Fleur Delacour; and the Triwizard Maze, Cedric Diggory and a Niffler, respectfully. The green Slytherin edition (water) shows Tom Riddle's headstone, Viktor Krum, the Hogwarts Giant Squid and the Durmstrang Ship.
In addition, each book features an illustration of its respective house animal on the binding and new internal illustrations by Pinfold will include Rubeus Hagrid (Gryffindor), Garrick Ollivander (Ravenclaw), Cedric Diggory (Hufflepuff) and Lord Voldemort (Slytherin).
The Goblet of Fire house editions can be pre-ordered now over at Bloomsbury's website ahead of their January release. Pre-orderers will receive an exclusive A5-sized foiled print of the coloured cover artwork design.
Funko to release two 'Harry Potter' tabletop strategy games
3 August 2019 at 18:21 GMT
Funko will release two 'Funkoverse' light strategy tabletop games, allowing players to battle head-to-head with Wizarding World Pop! Vinyl characters in locations and scenes from the books.
Both games include a set of miniature Pop! figures, as well as a base board and a number of thematic cards and items for gameplay. The base set (titled 'Harry Potter' 100) includes Harry Potter, Hermione Granger, Bellatrix Lestrange and Lord Voldemort Pop! figures, and sees players battle it out in both Diagon Alley and the Room of Requirement.
The expansion ('Harry Potter' 101) includes Ron Weasley and Draco Malfoy figures, and gives players the chance to battle in both the Forbidden Forest and Hogwarts Potions Classroom. Both sets can be combined for more complex gameplay, and the packaging notes that games are suited to between 2 and 4 players and will last between 20 and 60 minutes.
Both the base set (100) and the expansion (101) can be pre-ordered for $39.99 and $24.99, respectively, ahead of an October release.
Bloomsbury announce Triwizard-themed 'Harry Potter' Book Night for 2020
26 July 2019 at 17:07 GMT
Bloomsbury have announced that Goblet of Fire's iconic Triwizard Tournament will be the backdrop for next year's Harry Potter Book Night. The annual event will take place on Thursday 6 February 2020 and gives readers the chance to celebrate and discover the magic of the 'Potter' series.
The Harry Potter Book Night concept began in 2014 and encourages schools, shops, libraries and groups of friends to host co-ordinated 'Potter'-themed parties that celebrate the seven books and introduce the stories to new generations of readers. Each year is themed around a different location or scene from the books.
You can can register an event over at Bloomsbury's website, and check out a map of events happening on the day. If you register an event before 15 November you'll have the opportunity to receive a printed media kit including posters and stickers, and a digital media kit will be made available after that date. Those media items will include materials and activity ideas themed around the magical wizarding tournament.
Thinking of planning an event for next year? Check out the #HarryPotterBookNight hashtag on social media for inspiration.
Tags:
Bloomsbury
-
Comments Off

on Bloomsbury announce Triwizard-themed 'Harry Potter' Book Night for 2020
-
Permanent Link