Evanna Lynch, Matthew Lewis, Warwick Davis and Natalia Tena signing copies of 'Deathly Hallows: Part 1' today
10 April 2011 at 02:34 GMT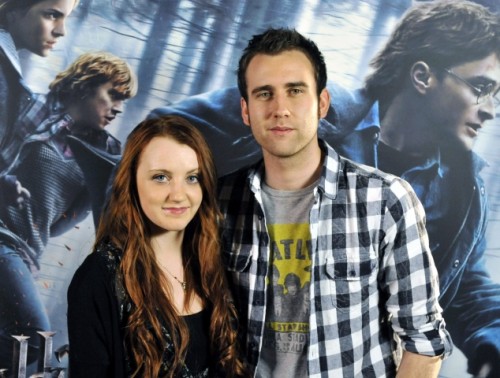 Harry Potter stars Warwick Davis (Flitwick and Griphook), Evanna Lynch (Luna), Matthew Lewis (Neville) and Natalia Tena (Tonks) will be signing copies of Deathly Hallows: Part 1 today (Sunday) at HMV on Oxford in London.
Fans are advised to arrive early to the signing event which will start at 4 PM. Limited wristbands for attendance will be available starting at 11:30 AM.
Deathly Hallows: Part 1 will be released in the UK on DVD and Blu-ray on Monday, and in the US and Australia on Friday.
Update: We're also told Mark Williams (Mr. Weasley) will be attending!
Watch producer David Barron talk us through shooting the final Harry Potter scene
9 April 2011 at 02:20 GMT
Check out producer David Barron talking about shooting the final scene for the Harry Potter films. The scene takes place in the Ministry of Magic and is featured in Deathly Hallows: Part 1.
[flv:http://video.thinkjam.com/video/warner/hp7_dvd/clips/finalshot_flv_hi_600x336.flv 600 336]
The clip comes from the Deathly Hallows: Part 1 Blu-ray, released 15 April.
David Heyman talks 'Deathly Hallows: Part 2', the battle, the epilogue, Snape and King's Cross
5 April 2011 at 12:11 GMT
In a new interview discussing Harry Potter and the Deathly Hallows: Part 2, producer David Heyman commented on the cinematic translation of some of Deathly Hallows' juiciest moments.
Be aware that the following quotes contain numerous spoilers regarding Snape's role, the battle of Hogwarts, the epilogue and more, so read on as you desire.
In the footage we saw today, there's a scene of Snape and McGonagall facing off in the Great Hall, which I don't remember happening at all in the book.
They do face off, but it's not in the Great Hall. There are a lot of things there that are slightly different from the book, but they are true to the spirit to the book. Snape and McGonagall do face off in the book, but it's in a corridor as Harry's on his way to the Ravenclaw common room.

So the Pensieve moment stays in too?
Yes, that and Dumbledore [at King's Cross].

Is the mewling creature on the floor at King's Cross still in there?
Yes, that's in there.

How did the actors go into the scene, growing into themselves 15 years later?
They look good. It's subtle. It's going to be very interesting to see the response, since inevitably we know it's Dan, Rupert and Emma, and we've just seen them as 17-year-olds. Initially we went a little further [with the effects], and then we pulled it back. Sometimes if you try too hard you're really aware of the work. You won't have huge wrinkles, obviously there's a difference, but you still resemble yourself.
Read the full interview by clicking here.