Photos from the New York City 'Deathly Hallows: Part 1' premiere
21 November 2010 at 02:40 GMT
Check out Harry Potter Fan Zone's photos from the New York City premiere of Harry Potter and the Deathly Hallows: Part 1 below.
Tags:
Dan Radcliffe
,
David Barron
,
David Heyman
,
David Yates
,
Deathly Hallows Movies
,
Emma Watson
,
Harry Potter Fan Zone
,
Pictures
,
Premieres
,
Ralph Fiennes
,
Rupert Grint
,
Tom Felton
-
Comments Off

on Photos from the New York City 'Deathly Hallows: Part 1' premiere
-
Permanent Link
Dan Radcliffe and Emma Watson on reshooting the 'Deathly Hallows: Part 2' epilogue at Leavesden Studios
20 November 2010 at 09:07 GMT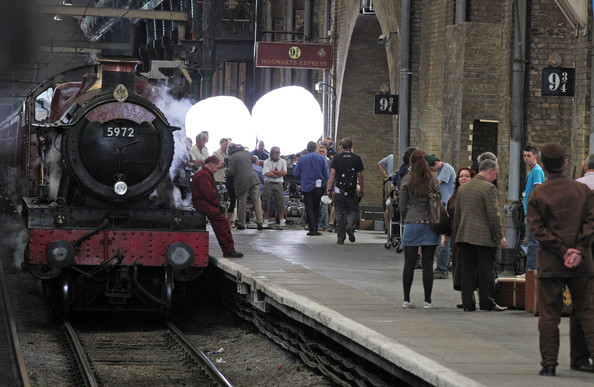 At last week's London press junket Dan Radcliffe revealed that the epilogue, featured at the end of Harry Potter and the Deathly Hallows: Part 2, will be reshot at Leavesden Studios at Christmas.
The original shoot took place at King's Cross station in London earlier this year, though both Radcliffe and Emma Watson agreed that the two-day shoot was rushed.
Says Radcliffe, "I think we made it very hard on ourselves because we shot it at King's Cross for real. This time we'll be shooting it in Leavesden [Studios] on a set. To have to rush that sequence, and it's such an important sequence, is not something that any of us want to do. I think when we revisit certain moments we'll be trying to keep it paced slowly".
Dan also added that, "We just pushed ourselves too far too quickly to get that all done at King's Cross when time constraints are so massive. It's a train station and people actually need to use that platform. We made it very hard on ourselves so I think we're going to revisit it and have a slightly slower, more measured pace next time".
Emma Watson, commenting on the original shoot, noted, "[it] was stressful. You can imagine we stopped trains literally so we could do the scene. We only had two days to shoot it and we needed so much more time than that".
"We have reshoots at Christmas, so it's not over yet. It's not over yet guys!"
'Deathly Hallows: Part 1' takes in $24 million on opening night in America
20 November 2010 at 06:38 GMT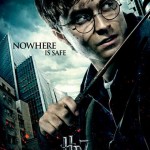 Variety is reporting that Harry Potter and the Deathly Hallows: Part 1 has earned $24 million from opening night midnight screenings. The film screened in 3,700 locations across North America.
So how does that compare? In 2009, Harry Potter and the Half-Blood Prince earned $22.2 million on opening night, while Order of the Phoenix earned $12 million in 2007 and Goblet of Fire earned $6 million in 2005.
The highest-grossing opening weekend belongs to the The Dark Knight, also from Warner Bros., which earned $158.4 million. Deathly Hallows: Part 1 is estimated to earn $132 million over the weekend, though "some predictions place it as high as $157 million".
What did you think of Deathly Hallows: Part 1. Is it the best adaptation yet?
Tom Felton and Rupert Grint look back on memorable Harry Potter moments
19 November 2010 at 10:56 GMT
Harry Potter Fan Zone caught up with Tom Felton (Draco Malfoy) and Rupert Grint (Ron Weasley) at the Harry Potter and the Deathly Hallows: Part 1 press junket in London last week, where they told us about some of their most memorable Harry Potter experiences.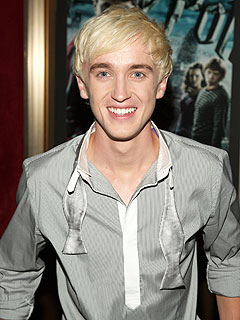 Harry Potter Fan Zone: Are you going to look back on the whole thing as one big experience or do you have a stand out film (Half-Blood Prince for example)?
Tom Felton: Not really, it kind of all blurs into one. I don't really remember saying goodbye and then coming back six months later. I just kind of remember it blending into one. Obviously, yeah, there are slightly different experiences. More to do with my age I guess. We were so young on the first ones. You don't really question anything when you're twelve or thirteen, you just get on with it and then kind of look back and think, "oh that was bizarre". Certainly around that time that I mentioned this infatuation with filmmaking. It was that film, the sixth one, that really embedded that. Just being on set a lot more and working a lot closer with [David] Yates made it a lot more fun.
Rupert Grint told us about some of his favourite 'Potter' memories, including the infamous slug sequence in Chamber of Secrets.
Rupert Grint: I'll never forget [the slugs]. I can still taste them!
Alexandre Desplat on 'Hedwig's Theme', composing the music for 'Deathly Hallows: Part 1'
19 November 2010 at 08:35 GMT
Harry Potter Fan Zone, along with a number of other fan websites, recently caught up with composer Alexandre Desplat to talk about his music for Harry Potter and the Deathly Hallows: Part 1.
Harry Potter Fan Zone: What was the first piece of music or melody that you wrote for this film and how did the rest of the music evolve from that idea?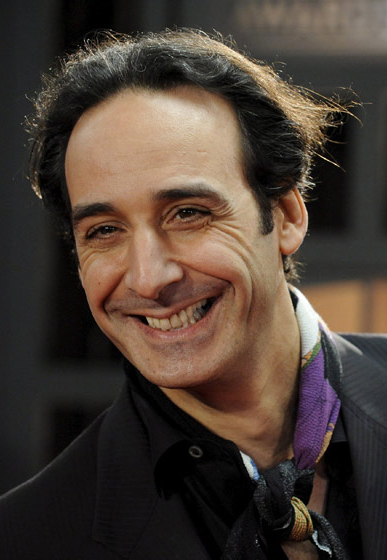 Alexandre Desplat (AD): I worked many bits and pieces, that's always the way I build my soundtracks. I take a lot of notes on a music pad, on a music writing little book. And so I take notes from these. And, and it's many of them, it's not just one. One of the ideas was the opening titles, the theme of "Obliviation", and most of the "Ministry of Magic". These three were the three I started to play around with, which means trying different ideas. But I can't say that one was leading the others. 'Cause at the same time I was also playing around with "Hedwig's Theme", making many questions of how I could twist the neck of this theme and make it different and bring it into my own little world of music. Except that at the end it did not happen because there was not enough room for the scene to be in the version that I'd written. So it's really a complex process, it's not just one theme, it's many, many ideas and themes. I just record 'cause I know I'm going to use a rhythm pattern that I'm going to use and reuse and display here and there.
Question: "Obliviate" seems to be a reoccurring theme in the film. It's somewhat of a much darker version to "Hedwig's Theme" in a sense that the track has a sense of flight to it. Could you talk about that track, and how you came up with it?
AD: Well, first of all it, has nothing to do with "Hedwig's Theme". It's completely away from the "Hedwig's Theme". There's not any combinations of notes that sound like "Hedwig's Theme". That's important to state. And if I may add to that statement that I loved the "Hedwig's Theme" and I was actually impatient to write a version of the theme. But unfortunately, the movie was repelling, it was not. Because of the nature of the film, this theme, didn't match. So, that's the first thing. Now "Obliviate", it is the seeds of the score. Actually this piece is the most important piece. That's the piece around which the whole score was built. The idea was to find a theme that had a sense of sorrow, loss of innocence, but still with a propelling motor, and also a sense of wide sound to deliver an epic kind of feeling to it. Actually, this piece opens the movie. It's the first melody that you'll hear. And it's music that goes with the theme where the three heroes leave their families, their homes to go to the unknown. They go on the road to fight the dark forces and it captures their anxiety, their fears, their sadness. And that's why this theme will be recurring in various shades all over the film.
Question: Fans really love "Hedwig's Theme". How did you go about choosing which scenes would feature it?
AD: Well, it's very easy to understand that. The movie being so different from the previous ones because it's the first time our heroes are away from Hogwarts. They're not children anymore. They're young adults. And the theme of Hedwig is really related to the early days of Harry Potter, Ron, and Hermione. We tried really hard with David Yates to use it at very specific moments. Some of them did not make it until the end of the process, unfortunately, because they were kind of bringing the children to childhood while the movie was doing exactly the opposite, bringing the children into adulthood. So it's only a few moments when he's leaving his house, we see Hedwig go in the sky, away from Harry's hand, when Hedwig is killed, also, by one of the Death Eaters. We're not related anymore, neither to Hedwig, neither to the childhood of these heroes. That's why and how the theme is not recurring more than that, sadly, because it's a fantastic melody. Fantastic.
David Heyman, David Yates on Alexandre Desplat's 'Deathly Hallows' music, John Williams returning
16 November 2010 at 15:33 GMT
Earlier this month Harry Potter Fan Zone spoke with the cast and crew of Harry Potter and the Deathly Hallows as part of the London press junket.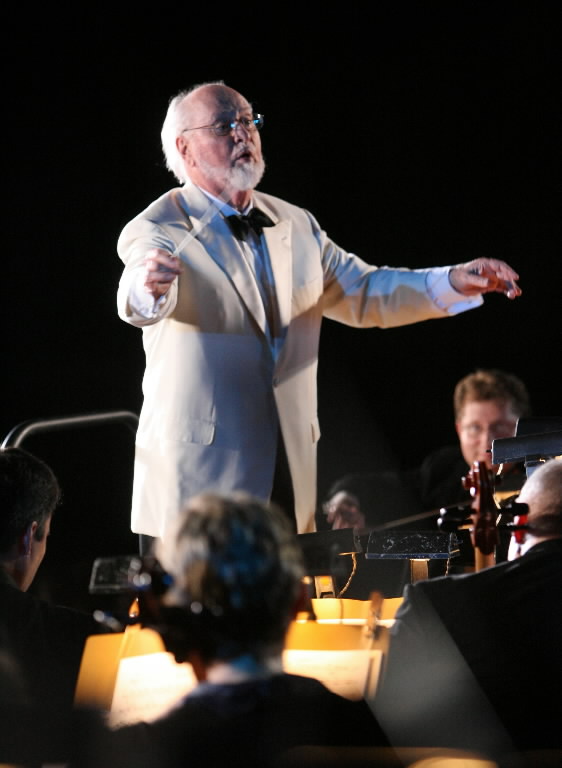 Below you can read our interviews about the music of the final two films, including producers David Heyman and David Barron commenting on the possibility of John Williams scoring the final Potter film.
Harry Potter Fan Zone (HPFZ): Was John Williams ever asked to score Deathly Hallows: Part 2? Did he decline?
David Heyman (DH): Yes, he was. We wanted to make it work with John but John's schedule didn't permit.
David Barron (DB): He was just unavailable unfortunately.
HPFZ: He wanted to do it?
Both: He did, very much so.
DH: We asked him around the time of [movie] six. Actually, we talked to him all the way along [about coming back for the end] but his schedule didn't permit.
DB: It's incredible for a man of advancing years who you think might be taking it easy, we spoke to him almost two years before the scoring sessions for this film and already then he had schedule issues.
DH: And then he tried to work his schedule to try and accommodate it but it just wasn't possible.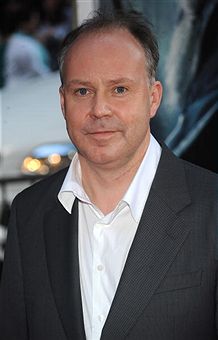 We also asked director David Yates about the use of "Hedwig's Theme" in Deathly Hallows: Part 1.
HPFZ: Alexandre Desplat mentioned that you picked very specific moments for "Hedwig's Theme". What was so significant about those moments?
David Yates (DY): Anything that felt like we were being nostalgic or in a way reflective of the past. That's when we used it.
HPFZ: Was it a conscious decision for him to play with the melody?
DY: Yeah, we wanted it to feel like it was all getting a bit distressed. We wanted to sort of [mess] it up a bit.
We'll have more, including an interview with Alexandre Desplat, the composer for the Deathly Hallows films, later this week.