New details and photos from Universal's upcoming Hagrid theme park attraction
21 May 2019 at 21:04 GMT
New story details and imagery for Universal Orlando's latest addition to the Wizarding World of Harry Potter theme park have been revealed. The Hagrid's Magical Creatures Motorbike Adventure immersive rollercoaster attraction opens on 13 June and takes visitors on a high-speed magical creature journey with the Hogwarts gamekeeper.
Riders will follow the Care of Magical Creatures teacher on an immersive 'story coaster' experience and travel through sets and locations made popular by the 'Potter' films. Unique to this experience is a trip to the edge of the Forbidden Forest to explore new ruins that have been 'abandoned for centuries behind Hagrid's hut'.
Harry Potter production designer Stuart Craig and art director Alan Gilmore brought the authentic ruins to life, which house 'materials from Hagrid's Care of Magical Creatures class' (including dragon eggs) and a pre-show experience with Arthur Weasley and both Hagrid and dog Fang.
Visitors will then board Hagrid's iconic flying motorbike where they'll be taken deep into the Forbidden Forest and encounter a horde of magical beasts. The coaster also features 'the most launches [seven] of any roller coaster in the world' (that's the whole slow to fast bit) and is 'the first coaster in the U.S. to feature a free-fall vertical drop,' with a plunge of nearly 17 feet (around 5 metres).
Hagrid's Magical Creatures Motorbike Adventure is the longest roller coaster in Florida (the theme park capital of the world), measuring 'nearly a mile in length'. Visitors also have the option of riding in either Hagrid's motorcycle or in the adjacent sidecar (ridden by Harry in Deathly Hallows). (Of course, the attraction wouldn't be complete without a 'backwards bit' — that comes after a 65 foot 'catapult' in the air at a more than 70 degree angle. Eep!)
Hagrid's Magical Creatures Motorbike Adventure opens at Universal Orlando on 13 June and replaces the Triwizard-themed Dragon Challenge attraction.
Funko to release new wave of Yule Ball-themed 'Harry Potter' Pop! Vinyls
17 May 2019 at 12:13 GMT
Funko will soon release a new wave of Harry Potter Pop! Vinyl figures, including a number of characters in their Goblet of Fire Yule Ball costumes. The new figures, plus a range of keychains and pentoppers, will be available later this year. Pre-order links can be found below: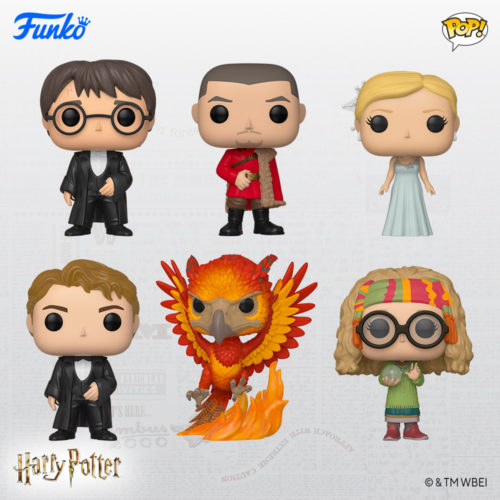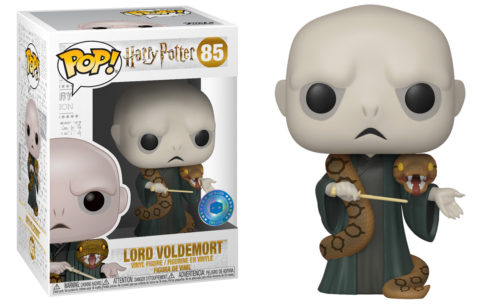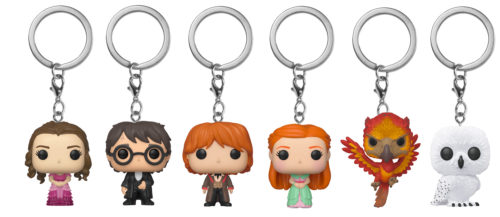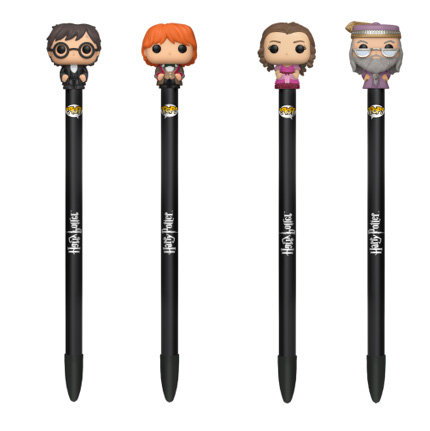 Pre-order links:
LEGO to release two new 'Goblet of Fire' sets in August
11 May 2019 at 19:12 GMT
It's been a big couple of weeks for LEGO collectors, with the brick giant today announcing two more Harry Potter sets themed around Goblet of Fire scenes. Both Beauxbatons' Carriage: Arrival at Hogwarts (430 pieces) and The Rise of Voldemort (184 pieces) will be released on 1 August and will retail for $49.99 and $19.99 respectively.
The new Beauxbatons build complements the arrival of the Durmstrang ship — a set LEGO released way back in 2005. The Rise of Voldemort looks to be an evolution of Graveyard Duel, another Goblet of Fire set released in 2005.
Late last month LEGO revealed five new 'Potter' sets themed around both Prisoner of Azkaban and Goblet of Fire, and a festive Advent calendar. Those new sets will be available from 1 June.
First look at Hagrid animatronic from upcoming 'Magical Creatures' attraction
7 May 2019 at 21:02 GMT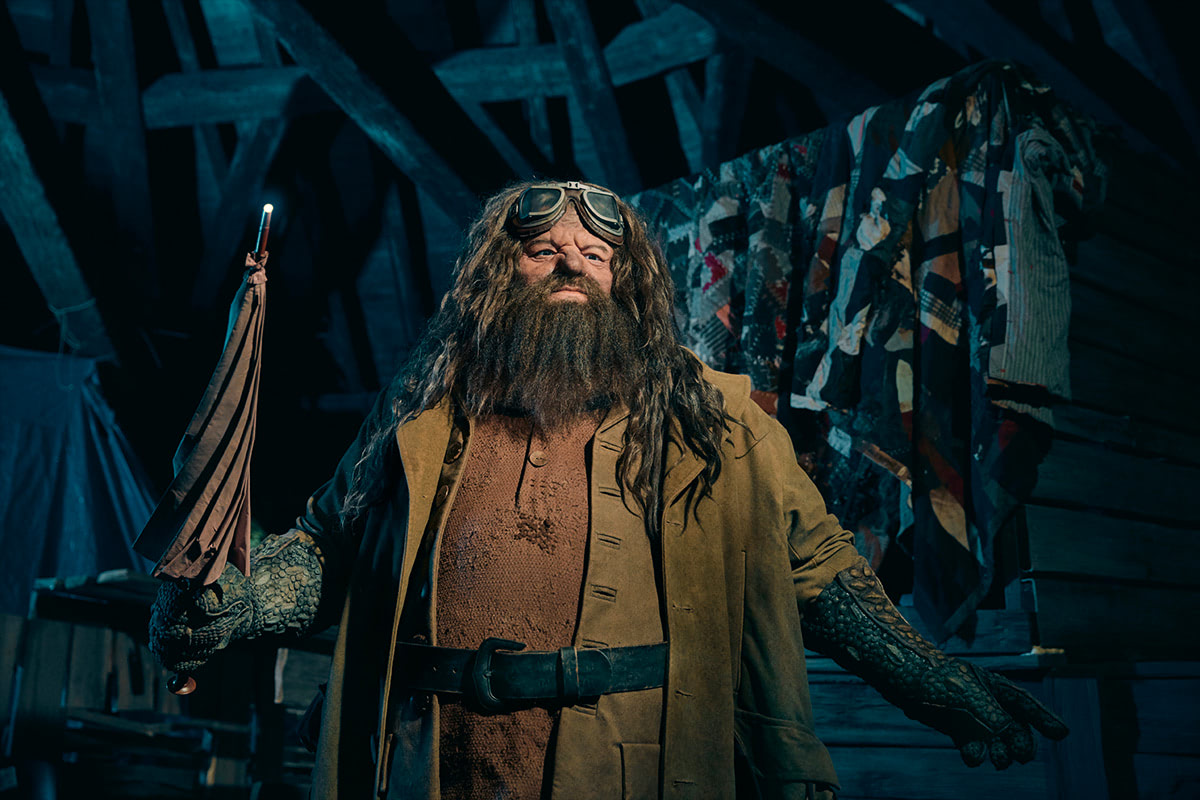 A life-size animatronic version of Hogwarts gamekeeper Rubeus Hagrid will be the centerpiece of Universal's upcoming immersive coaster experience, opening at Orlando's Wizarding World of Harry Potter theme park on 13 June.
Standing at 7 feet 6 inches, the animatronic is the most advanced animated figure ever created by Universal. The team behind the model studied 'Potter' actor Robbie Coltrane's body movements and facial expressions to help inform the half giant's design, which has a 'meticulously hand-sculpted face' and '24 different body actions'.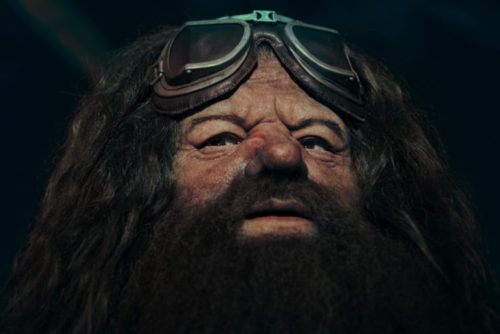 Hagrid's costume was created by the same team who designed the gamekeeper's clothing for the Harry Potter films, while Coltrane recorded new dialogue specifically for the attraction. As for magic? Visitors can expect to see a replica of Hagrid's iconic pink-umbrella-turned-wand.
Last month, Universal revealed a number of creatures that visitors will encounter during Hagrid's Magical Creatures Motorbike Adventure, including Cornish Pixies, Centaurs, Fluffy and a Blast-Ended Skrewt. The new attraction opens on 13 June.
MinaLima reveal second 'Harry Potter' graphic art print
2 May 2019 at 22:37 GMT
Graphic designers MinaLima have revealed the second piece in their Harry Potter graphic art series titled, 'Welcome Harry, to Diagon Alley'. The numbered print is available from the design duo's website in both a standard and premium finish.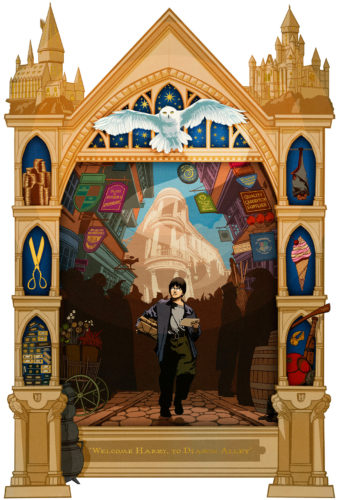 The first print in the series, 'You're a wizard, Harry', was unveiled in March and is the first in a collection of magical 'Potter' moments celebrated in 'iconic MinaLima graphic style'.
Third 'Fantastic Beasts' film to be released on 12 November 2021
30 April 2019 at 11:05 GMT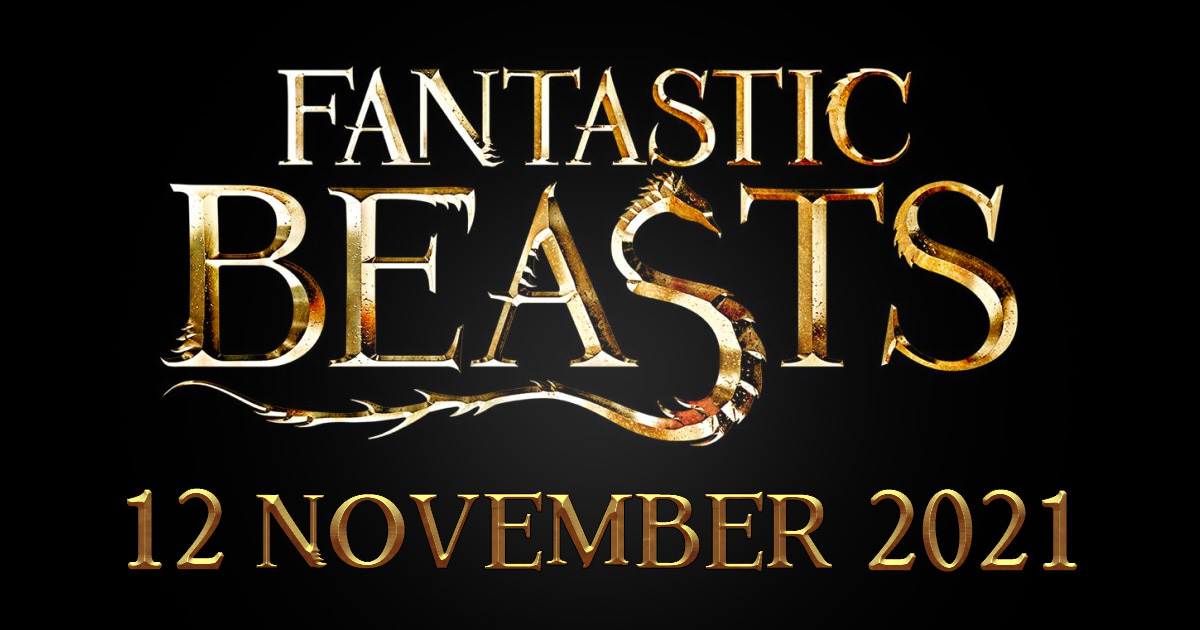 Warner Bros. have officially announced a release date for the third and as-yet untitled Fantastic Beasts film — 12 November 2021. A year later than originally slated, production will begin in the Northern Hemisphere spring of 2020.
The third 'Beasts' film will be set in Brazil and, according to actor Dan Fogler (Jacob Kowalski), will be 'bigger than the first two combined'. The delay is a result of the scale of the picture (the crew 'didn't want to rush anything' adds Fogler), but rumours of script tweaking have also been rampant after Crimes of Grindelwald was poorly received by critics.
Chairman of Warner Bros. Pictures Group Toby Emmerich added, 'we are incredibly excited about and have confidence in the Fantastic Beasts series. We all believe this release date will give the filmmakers time and space to allow their artistry to truly flourish and deliver the best possible film to our fans.'