'Deathly Hallows' orchestrator provides new soundtrack info
11 October 2010 at 00:27 GMT
Conrad Pope, the orchestrator for the Harry Potter and the Deathly Hallows: Part I soundtrack, has provided another update via his Facebook page. The score, which is composed by Alexandre Desplat, is due for release on November 16th. Recording began in September.
Back in L.A. after working on HP7 for Alexandre Desplat. The score adds a new dimension to Potter. Wish I could be more specific and share all my thoughts and news but I've promised the producers my silence until the picture is released. So, everyone with questions: please know they'll be all answered soon enough. For me, it's on to the next panic…. I mean project! (Actually HP was a delight, as these things go)
Last month, Pope also provided information regarding some of the themes we should expect in the score.
27 August: Working on Alexandre Desplat's new score for the next "Potter". Exciting, vigorous music! Harry flies, fights and conjures. All accompanied by the distinctive, definitely non-generic voice of Desplat. Those who love melodies, harmonies and emotions in their film scores should be pleased. Reminds one of the old days. Stay tuned.

24 September: Just finished the first week with the LSO of recording Alexandre Desplat's score to "HP7". Harry Potter now occupies a new musical universe. For Lovegood AD has written a charming, "groovin'" theme. Dobby, too, is given a new "voice". The emotional music reaches its climax in Ron's speech in the "wilderness" where the poetry of AD conveys the emotion in a single chord's voicing. Stay tuned.
Harry Potter and the Deathly Hallows: Part I will be released on November 19.
'Deathly Hallows: Part I' won't be in 3D
8 October 2010 at 23:27 GMT
Warner Bros. today announced that Harry Potter and the Deathly Hallows: Part I will not be released in 3D.
Warner Bros Pictures has made the decision to release "Harry Potter and the Deathly Hallows – Part 1" in 2D, in both conventional and IMAX theaters, as we will not have a completed 3D version of the film within our release date window. Despite everyone's best efforts, we were unable to convert the film in its entirety and meet the highest standards of quality. We do not want to disappoint fans who have long-anticipated the conclusion of this extraordinary journey, and to that end, we are releasing our film day-and-date on November 19, 2010 as planned. We, in alignment with our filmmakers, believe this is the best course to take in order to ensure that our audiences enjoy the consummate "Harry Potter" experience.

Producer David Heyman said, "For 10 years, we have worked alongside Alan Horn and the studio, whose priority has always been to preserve the integrity of Jo Rowling's books as we have adapted them to the screen, and this decision reflects that commitment."

Director David Yates continued, "This decision, which we completely support, underscores the fact that Warner Bros. has always put quality first."

As scheduled, on July 15, 2011, we will deliver to conventional and IMAX theaters our final installment of the film franchise, "Harry Potter and the Deathly Hallows – Part 2," in both 2D and 3D formats.
Evanna Lynch talks Luna Lovegood on the set of 'Deathly Hallows'
7 October 2010 at 11:27 GMT
Following on from our set visit piece the other day, we can now bring you the full interview with Evanna Lynch (Luna Lovegood) from the set of Harry Potter and the Deathly Hallows. We'll have more with Evanna (part two related quotes) next year.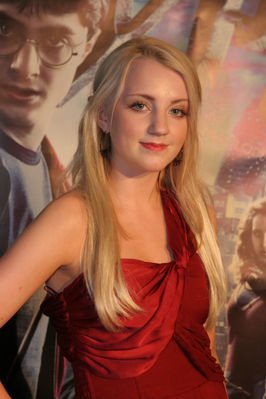 Question: I'm curious if you could talk a little bit about when you first got the seventh book. Where were you? What was your reaction to reading it?
Lynch: Yeah, I was invited to J.K. Rowling's big thing in the History Museum in London. I went all dressed up and everything as usual and didn't get recognised. Lucky. And, yeah, I read it in my hotel really quickly. My reaction, yeah, I was a bit overwhelmed. You know when you're a fan you want to take it all in but you feel guilty when you put the book down because it's like, "there's stuff I don't know in there". I read it in a rush and sort of cried for ages after.
Question: You're sort of the ultimate dream come true fan because you became a character in the films and now you're seeing it to the end here. What's that like for you? I mean, this was kind of your first acting job. You've been with this franchise for a while now and now it's coming to an end, what does that feel like for you?
Lynch: Yeah, weird I know. Someone asked me on set, "do you still get excited coming on?". I don't get used to it at all. And I feel really sad because I don't feel like I was one of the actors. I feel like I was a really big fan. You know, sure I could act but I don't know what will happen, whether I'll be back in films again. I hope so. It is like it's a dream. What's going to happen after? My whole life has been structured around it.
Question: Has it sunk in quite yet?
Lynch: It did a while ago because in all the interviews we do people ask us how you are feeling now that it's ending. But then one of the days we were watching the Half Blood Prince DVD and there was just loads of scenes of us together and I just started crying and I just couldn't stop … We were in the Room of Requirement and it feels like there was sort of symbolism because my first scene when I started was in the Room of Requirement and I was just really shy and everyone was learning. That's the thing. Everyone has their wands [casting] the Patronus and that time we were doing the last scenes in the Room of Requirement and I just feel that it's like a room where they learn everything, where they all grow up. They all leave the room, they are all sort of going into battle. To me it seems like leaving childhood, like leaving Harry Potter and going out into the adult world and battling. So yeah that really upset me.
Exclusive 'Harry Potter and the Deathly Hallows' set report
5 October 2010 at 16:00 GMT
As we move through the creature shop I am struck by the sight of a truly bizarre prop. A life-size animatronic model of a woman is suspended in mid-air. The figure is lifeless and there is blood splattered on her head. So much detail has gone into its construction. Each freckle on the figure's face has been matched against the actress she is modelled after. There is something disturbing about touching the groggy-looking figure as it sways in evident pain.
This is of course the opening scene in J.K. Rowling's Harry Potter and the Deathly Hallows and the figure is Charity Burbage (played by Carolyn Pickles), the Muggle Studies teacher who is killed by Lord Voldemort (Ralph Fiennes) and fed to his snake as she hovers helplessly in the Malfoy Manor. From this moment, the tone of Deathly Hallows is set. Warner Bros. too are continuing their trend of producing increasingly darker 'Potter' films, something that was most definitely evident when Harry Potter Fan Zone visited the set of Harry Potter and the Deathly Hallows earlier this year.
In 2008, Warner Bros. announced their decision to split Harry Potter and the Deathly Hallows into two separate films. The first part would be released in November of 2010, while the second would be released in July of 2011. Consequently, "pretty much everything you read in the books will be in these two films", says Vanessa Davies, head of production publicity for the Harry Potter films and our guide for the day. "The first story is very much a road movie. They're out and about. They're often in the forest [though] there isn't as much camping as you get in the books".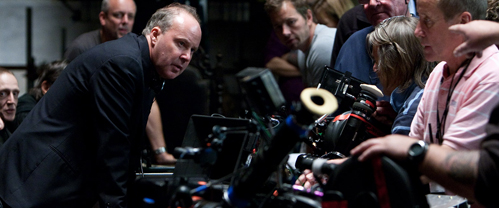 The ability to stretch the source material over two films is something that excited director David Yates. Speaking on set on day 226 of principal photography, Yates tells us, "we've kept more than we've ever been able to keep in some of the other adaptations I've worked on … there are some loose ends we can tie up as well". Additionally, the extended screen time meant that there was room to add new scenes, which would, according to Yates, "raise the emotional stakes".
In Deathly Hallows: Part I Yates talks of a scene where "Harry (Dan Radcliffe) comes back to the tent and finds Hermione (Emma Watson) listening to some Muggle music … they have this dance with each other, which is a very tender, awkward and emotional moment for the two of them because they've lost their friend … there is always that moment where you think could this trip beyond friendship to something else?". The director also tells us to expect more scenes with the Snatchers, including a big chase. Finally, we will see Hermione wipe her parents' memories (something that is only mentioned in the novel) in a new scene that "J.K. [Rowling] loved".
"We've set out to try and [create] a filmic rendering of the novel" emphasises producer David Barron and, as we tour the ever-expanding sets at Leavesden Studios, it is definitely clear that the bulk of the novel has been included in some shape or form. In the press room, we are given a look at some of the props, costumes and models from the film. As always, there is immense attention to detail. Some of the most noteworthy items include "The Life and Lies of Albus Dumbledore", "A History of Magic", Lily's letter to Padfoot, Sirius' motorcycle maintenance manual, Ministry ID cards, an "Undesirable No. 1" poster and Xenophilius Lovegood's Deathly Hallows necklace to name a few. There is also a model of the rather foreboding Malfoy Manor and the lilac wedding marquee.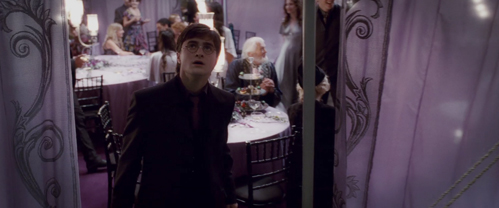 "It was like going to a real wedding … It was beautiful" says Davies of the wedding. The sequence was particularly enjoyable for Evanna Lynch (Luna Lovegood), sharing screen time with actor Rhys Ifans who plays her on-screen father, Xenophilius Lovegood. Lynch tells us, "it was brilliant … he was just perfect. When he came along it was like we were [outsiders] together because he's in this yellow mad stuff … it felt really relaxed. It was nice". Lynch also choreographed a dance routine for her character, describing the wacky moment as "[us both] spinning and closing our eyes".
The wedding scene is also of particular significance for Domhnall Gleeson who joins the Harry Potter ensemble in Deathly Hallows: Part I playing Bill Weasley. The son of actor Brendan Gleeson (Mad-Eye Moody), Domhnall Gleeson originally tested for the part of Stan Shunpike in the third 'Potter' film. In the wedding scene, Bill Weasley marries Fleur Delacour (Clémence Poésy), which Gleeson jokes was a "bizarre" experience. "She's a great actress … It was bizarre … your first day of filming and you're playing husband and wife".
A pivotal part of Deathly Hallows: Part I also takes place in the Ministry of Magic, a complex set which is scattered around Leavesden Studios. On our tour, we climb up some steps to arrive in a new set: the toilet block which Harry and Ron (Rupert Grint) use to enter the Ministry. The attention to detail here is paramount. Visually, the room is old and dilapidated and everything about this set – stalls and all – looks oddly authentic. That is until you reach the end of the set, where a large painting of a London street hangs over the construction.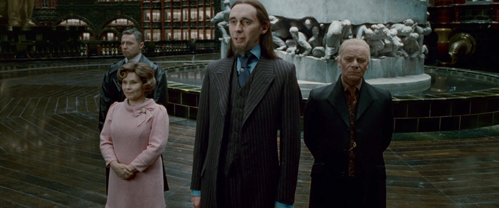 On Leavesden's 'C'-stage, a new trial room has been erected. The room is noticeably "cosier" than those featured in earlier films. It is here that Dolores Umbridge (Imelda Staunton) will interrogate Mary Cattermole (Kate Fleetwood). Back in the Atrium, crew members are reassembling the iconic set after its dramatic destruction in the fifth 'Potter' film. It takes roughly a month to reassemble. Dolores Umbridge is now a dominant force in the Ministry and "everything's had a good dose of pink" says Vanessa Davies. Behind the Atrium, Ministry lifts are also being constructed. We are taken down a long, imposing corridor which has been built on an extension to the 'C'-stage. The corridor shares a similar visual motif with the Atrium, though the tiles here are black. This set will be used during the walk from the lifts to the courtroom.
Our next stop is the Hogwarts Express. The iconic train features briefly in Deathly Hallows: Part I in a scene where Death Eaters board the train and corner Neville Longbottom (Matthew Lewis), demanding to know if "Undesirable No. 1" is aboard. It is then off to the creature shop where I spot a bust of Jamie Campbell Bower (Gellert Grindelwald) sitting on a shelf alongside an array of creatures and props from all Harry Potter films to date. The life-size animatronic of Charity Burbage is then brought to life for the group to much amazement.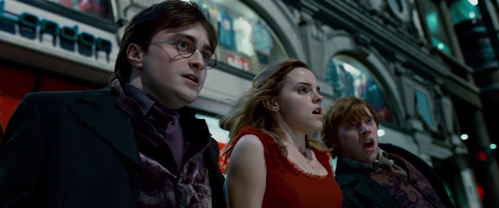 Of course, much of the setting that appears in Deathly Hallows: Part I is not housed at Leavesden Studios. A large portion of the film is shot on location, including the trio's escape to London which was filmed in Piccadilly Circus and at a café in London's West End (the crew originally planned to shoot at Tottenham Court Road, as in the novel, but construction work prohibited this). "[There is] more exterior filming than all the other films have had … the location department did the most extraordinary job" remarks Barron. "It was a crazy night" adds Rupert Grint.
Additionally, the outdoor camping scenes proved increasingly challenging to shoot. "We not only go to the woods, but we go to various woods at different times, different seasons, summer, winter" reveals production designer Stuart Craig. "The climate is our biggest enemy … Voldemort pales into insignificance compared with the weather" jokes Barron. "We have been to a lot of different forests around England" adds Grint. The crew also filmed some of these outdoor scenes, including the Silver Doe sequence, at nearby Pinewood Studios. Vanessa Davies tells us that these camping scenes include "lots of action, lots of explosions, all sorts of fun and games".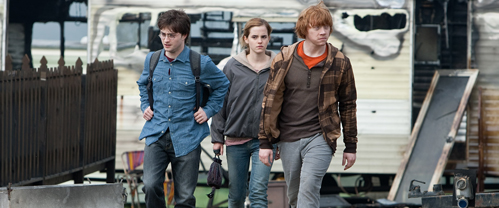 What is clear from our visit to Leavesden is that the cast and crew are, as always, taking the adaptation from page to screen incredibly seriously. There is immense attention to detail, and a real effort to preserve the tone and heart of J.K. Rowling's final story. Though the narrative itself has been split into two films, Rupert Grint tells us that "it feels like one story" and David Barron remarks that "generally speaking, everything [plot wise] is necessary". While cast and crew describe Deathly Hallows: Part I as an exciting and adventurous "road movie", it seems David Yates feels the filmmaking journey has not been too dissimilar.
"I wouldn't have missed it for the world … It's been a real trip actually."
Deathly Hallows: Part I will be released in cinemas on 19 November. We will be bringing you more from the set – specifically juicy details about Deathly Hallows: Part II – next year.
Check out the 'Deathly Hallows: Part I' one sheet
4 October 2010 at 23:56 GMT
Warner Bros. has sent over a high-resolution version of the Harry Potter and the Deathly Hallows: Part I one sheet. Check it out below.