Check out our 'Deathly Hallows' wallpaper collection
29 September 2010 at 13:22 GMT

Harry Potter and the Deathly Hallows: Part I is just around the corner. To keep you in a 'Potter' mood until November, we're bringing you a collection of twenty-four Deathly Hallows themed desktop wallpapers.
Each wallpaper has been designed to fit a number of screen resolutions.
Check the wallpapers out and try one for yourself by clicking here.
J.K. Rowling to appear on 'Oprah' on Friday
28 September 2010 at 00:28 GMT

Harry Potter author J.K. Rowling will appear on the The Oprah Winfrey Show this Friday, October first. The interview was recorded at the Balmoral Hotel in Edinburgh where Rowling completed Harry Potter and the Deathly Hallows back in 2007.
In a wide-ranging interview that took place in Edinburgh, Scotland, Rowling speaks candidly with Winfrey about her life and career as well as her journey to becoming one of the most recognizable writers of children's literature today. Rowling, who rarely does interviews, also shares her thoughts on the possibility of ever writing another Harry Potter book in the future.

Rowling reveals the moment when she knew that her life had changed forever. It was while in the United States on her second book tour: "There was this enormous Barnes & Noble, and I thought, oh my God. And the queue snaked up the street, up the Barnes & Noble, up through four floors and they took me in the back entrance. They opened the door and they screamed. They screamed….That's a real stand-out moment for me. I knew it was getting big in that there was press attention and so on, but at that point, that for me…was when it felt 'Beatle-esque.'"

Rowling also reveals to Winfrey that coping with the pressures of sudden stardom was not easy: "You ask about the pressure. At that point, I kept saying to people, yeah I'm coping…but the truth was there were times when I was barely hanging on by a thread."
Read the full press release by clicking here.
Take a closer look at the 'Deathly Hallows: Part I' trailer
27 September 2010 at 06:15 GMT
Now that the Deathly Hallows: Part I trailer has been online for a few days (watch it here), we thought we'd take a closer look at some of the little details you might have missed on your first (or second, or tenth, or millionth) viewing.
Click each image below for a larger version.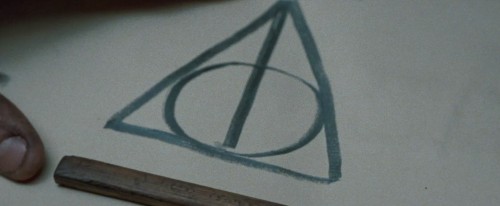 Cast for 'Deathly Hallows: Part II' epilogue revealed
26 September 2010 at 03:19 GMT
10-year-old Ryan Turner will play the role of Hugo Weasley in the epilogue scene in Harry Potter and the Deathly Hallows: Part II, it has been revealed.
Additionally, Harry and Ginny's children, James Sirius Potter and Albus Severus Potter will be played by actors Will Dunn and Arthur Bowen respectively.
Deathly Hallows: Part II will be released in July of next year.
With thanks to Snitch Seeker and Screen Terrier.
Lovegoods, Dobby to get musical themes in 'Deathly Hallows' score
25 September 2010 at 01:30 GMT
Both the Lovegoods and Dobby will get musical themes in Alexandre Desplat's score for Harry Potter and the Deathly Hallows: Part I, according to an update by Conrad Pope, the score's orchestrator. Recording with the London Symphony Orchestra (LSO) began a week ago.
27 August: Working on Alexandre Desplat's new score for the next "Potter". Exciting, vigorous music! Harry flies, fights and conjures. All accompanied by the distinctive, definitely non-generic voice of Desplat. Those who love melodies, harmonies and emotions in their film scores should be pleased. Reminds one of the old days. Stay tuned.

24 September: Just finished the first week with the LSO of recording Alexandre Desplat's score to "HP7". Harry Potter now occupies a new musical universe. For Lovegood AD has written a charming, "groovin'" theme. Dobby, too, is given a new "voice". The emotional music reaches its climax in Ron's speech in the "wilderness" where the poetry of AD conveys the emotion in a single chord's voicing. Stay tuned.
Deathly Hallows: Part I will be released on November 19; Alexandre Desplat's soundtrack will be released on November 16.
With thanks to UHP.