Read our 'Deathly Hallows: Part I' set report preview
15 September 2010 at 16:00 GMT
Earlier this year, I had the pleasure of visiting Leavesden Studios where cast and crew were busy at work on Harry Potter and the Deathly Hallows. During the visit, I toured the sets (both old and new), and interviewed many members of the cast and crew. You can read a preview of my report below.
We climb up some steps to arrive in a new set: the toilet block which Harry and Ron use to enter the Ministry of Magic. The attention to detail here is paramount. Visually, the room is old and dilapidated and everything about this set – stalls and all – looks oddly authentic. That is until you reach the end of the set, where a large painting of a London street hangs over the construction.

The now familiar Ministry of Magic set has been extended for the film too. On Leavesden's 'C'-stage, a new trial room has been erected. It's noticeably "cosier" than those featured in earlier films. It's here that Dolores Umbridge will interrogate Mary Cattermole. Back in the Atrium, crew members are reassembling the iconic set after its dramatic destruction in Order of the Phoenix. It takes roughly a month to reassemble. Behind the Atrium, Ministry lifts are also being constructed. Filming is set to begin here shortly.
The full piece for Deathly Hallows: Part I will be available next month.
Watch the 'Deathly Hallows' TV spot
11 September 2010 at 01:54 GMT
Check out the first TV spot for Harry Potter and the Deathly Hallows: Part I below, courtesy of Warner Bros.
[flv:http://pdl.warnerbros.com/wbmovies/deathlyhallows/pt1/tvspot/HP7_1043_Large.flv 640 266]
Two new 'Deathly Hallows' photos
9 September 2010 at 01:33 GMT
See two new images from Harry Potter and the Deathly Hallows: Part I, which first appeared in Empire Magazine Australia, below.
Picture of Harry in Grimmauld Place from HP7
1 September 2010 at 11:13 GMT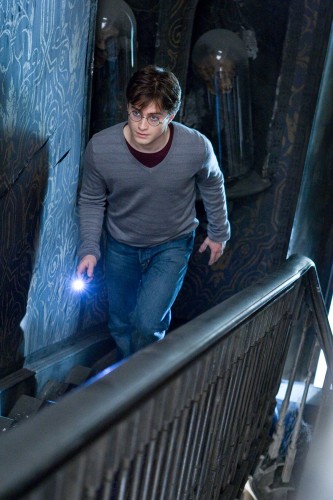 Thanks to Warner Bros.!