Dan Fogler (Jacob) confirms 'Fantastic Beasts 3' set in Brazil, production delay
8 February 2019 at 15:16 GMT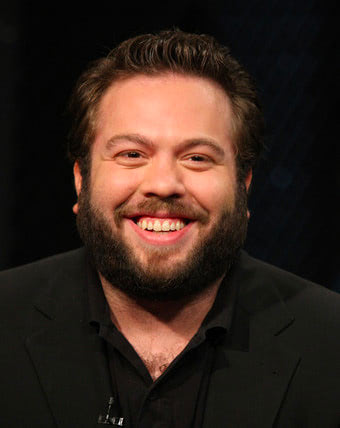 Dan Fogler — Jacob Kowalski in the Fantastic Beasts films — recently gave an interview where he confirmed that the as yet untitled 3rd Fantastic Beasts film would be set in Brazil.
Fans have been speculating about Brazil as Newt Scamander's next destination after J.K. Rowling updated her Twitter header photo to a picture of Rio De Janeiro in the 1930s. Brazil follows New York and Paris as the primary destinations in the first two 'Beasts' films.
Fogler also commented on a production delay for the film, noting that the film will be 'bigger than the first two combined' and that the crew 'needed more time to prep and they didn't want to rush anything so they pushed it back'.
Fantastic Beasts 3 is scheduled for release in November 2020 but it's unknown whether the production delay will result in a release push back.
Warner Bros. Studio Tour London announces Gringotts Bank expansion
1 February 2019 at 15:14 GMT
Exploring Gingotts Bank will soon be one step closer to reality with the announcement of Warner Bros.' latest Harry Potter studio tour expansion. From April 6, the iconic Wizarding Bank set will join The Making of Harry Potter experience at Leavesden Studios.
Visitors will be able to tour the Gringotts main hall as well as enter the Lestrange vault where both the Sword of Gryffindor and Hufflepuff Cup props will be on display. The original Gringotts bank set is modelled on London's iconic Australia House — in fact, scenes in the first 'Potter' film were shot here on location.
During the events of Deathly Hallows: Part 2 the trio break into the Wizarding bank before destroying much of the main hall (thankfully reconstructed at Leavesden Studios this time) during their daring dragon escape.
Tickets for the Harry Potter studio tour can be purchased from the official website.
-
Comments Off

on Warner Bros. Studio Tour London announces Gringotts Bank expansion
-
Permanent Link
Bloomsbury reveal cover designs for 20th anniversary House Editions of 'Prisoner of Azkaban'
26 January 2019 at 14:43 GMT
Bloomsbury will publish the third of their 20th anniversary House Edition series of novels with the release of Harry Potter and the Prisoner of Azkaban on 13 June. The 'Azkaban' House Editions follow the 20th anniversary releases of Philosopher's Stone (2017) and Chamber of Secrets (2018). Prisoner of Azkaban was first published in the UK on 8 July 1999.
The four Prisoner of Azkaban House Editions — each designed for a Hogwarts house — will be published in both paperback and hardback and again feature original jacket artwork by Levi Pinfold. The 'Azkaban' House Edition covers depict Sirius Black in his black-dog animagus form and are surrounded by intricate illustrations unique to each house.
The red Gryffindor House Edition is bordered by James Potter in animagus form, Harry conjuring a Patronus and the lone figure of Hagrid. The blue Ravenclaw edition is adorned with illustrations of Professor Trelawney, Azkaban Prison and Buckbeak the Hippogriff. The yellow and green Hufflepuff and Slytherin covers feature the Knight Bus, Hufflepuff Quidditch Captain Cedric Diggory, Dementors; and executioner MacNair, Peter Pettigrew as an animagus rat and a Wolfsbane Potion respectively.
In addition, each book features an illustration of its respective house animal on the binding. Incidentally, when all seven novels have been published, the alternating colours will form a Hogwarts house scarf. New internal illustrations by Pinfold show different characters casting the Patronus Charm.
The Prisoner of Azkaban House Editions can be pre-ordered now on Bloomsbury's website.
Funko reveal new 'Harry Potter' products at London Toy Fair
24 January 2019 at 12:11 GMT
Funko have announced a number of new products ahead of this year's London Toy Fair, including new additions to their Harry Potter lineup. The Toy Fair reveals include new 5 Star and Vynl figures, as well as a range of SuperCute Plush toys.
5 Star
Vinyl
SuperCute Plush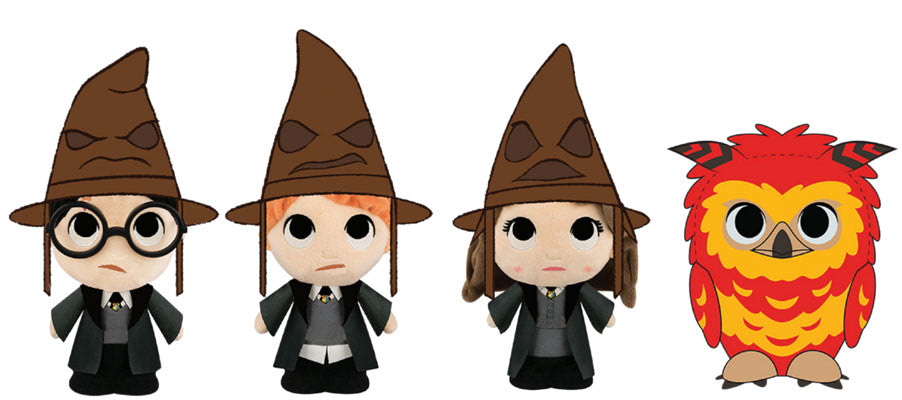 Although no new Pop! Vinyl figures were announced, we'll soon be seeing a new Harry Potter Pop! Vinyl 3-pack at the Emerald City Comic Con in March.