'Prisoner of Azkaban' New York City world premiere report
By Catherine Collins of Harry Potter Fan Zone
Exclusive photos from the event can be found here
Wow! I am at a loss for words. I am still flying high from the day's events. I was very, very fortunate to be able to attend the world premiere of Harry Potter and the Prisoner of Azkaban, taking place at Radio City Music Hall in New York City on Sunday, May 23, 2004. I was on the press line and had the opportunity to speak with many of the stars. It was a dream come true! Below are the highlights of this wonderful day.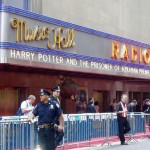 I arrived at Radio City by cab at 1 PM. The driver took me along 51st Street and I could not believe the crowd! They were at least seven deep behind the barricades. Everyone was screaming and waving. They were such an upbeat group.
After I meet with my camerawoman, I set out to interview the fans. I wanted to know where they had come from and how long they had been in line. I meet fans from as far away as Germany! One group of friends came from Canada. They arrived by bus at 4:30 in the morning after travelling all night. Everyone was so excited to be there. Some fans made a fabulous Dementor prop. One girl was wearing a great t-shirt that said "Property of Sirius Black". I had so many fans tell me about whom they admired. Many had hand made signs professing their love for the stars. One great one said, "Daniel, Rupert and Tom – we are under your spell". The general consensus among the crowd was that Harry Potter and the Prisoner of Azkaban was their favourite book so they couldn't wait for the movie.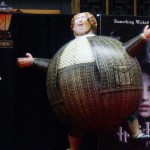 After that, I headed into the press area. To give you an idea of how the layout was – the side entrance of Radio City on 51st Street was where they had the red carpet. It spanned a large portion of the sidewalk and part of the street. Huge cardboard posters of the trio were on display. Hanging amongst them were gigantic blown up Aunt Marge dolls. Beside the red carpet, in the street, were the barricades for the press. We had barricades in front of us and behind us. On the opposite side of the street were the barricades erected for the fans. They were covered with Harry Potter posters.
There was continuous cheering and chanting for Harry Potter. Every time a car went by the fans would begin screaming. The excitement really began to build in anticipation of the seeing the stars.
The arrival time for the stars was planned for 3 PM. The press was grouped into individual barricaded areas and there was a staff member assigned to each who would let us know who just arrived and what they were wearing. A star would exit their car and walk down the red carpet stopping to be interviewed and photographed by various members of the press. It was a long press line! In my area, we asked questions as a group. It was great working like this. I was able hear the stars' answers to other questions reporters asked as well as ask my own.
Before the Azkaban stars arrived, other stars walked down the red carpet. I was able to get pictures of Meredith Vieira and her family, David Gallagher and Elizabeth Regan. The fans kept calling for David Gallagher to come over to them and he left the press line and crossed the street with a police escort to say hello to the fans. They went wild!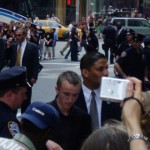 Finally, the staff announced some Potter stars had arrived. As I was waiting for them to make their way down the line to where I was, I became aware of a commotion going on across the street with the fans. There was a group of police officers huddled together. It turned out that Tom Felton (Draco Malfoy) was in the middle of their group! He greeted as many fans as he could and then proceeded to strut (I mean that in the most complementary sense!) up the middle of the street towards the beginning of the press line with the police officers beside him. I was able to get a great shot of that. Tom had the biggest smile on his face. He seemed to love the outpouring of devotion from the crowd.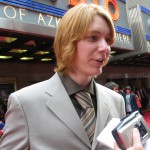 The first star I spoke to was Devon Murray (Seamus Finnegan). It was his first time attending a Harry Potter movie premiere in NYC and he was very pleased to be here. Then Bonnie Wright (Ginny Weasley) came by. I asked if it was her first NYC premiere as well and it was. I also asked her about her character, mentioning how Ginny has evolved within the series, especially in book five. I wanted to know if Alfonso Cuaron (director) started to hint at how she would change in this movie. She stated that her character does not have a large role in this movie. We should watch for more of her in the later films. I was able to speak to Jamie Waylett (Vincent Crabbe) shortly. He mentioned that his character would meet his comeuppance in this movie! James Phelps (Fred Weasley) kept mentioning his brother Oliver who could not be here because he had an exam coming up. He missed him. All were amazed at the enthusiasm of the NYC crowd.
At one point, the fans started yelling for the press to move. It was difficult for them to see at times because of the many press members and all the equipment. I tried to move out of the way when I could so the fans could have a better view.
I spoke with Mark Radcliffe (producer) and asked him what it was like working with Alfonso Cuaron in attempting to bring his vision to life on the screen. He had the highest praise for Alfonso and enjoyed working with him and producing the film very much.
I was extremely pleased to be able to chat to Chris Columbus (Philosopher's Stone and Chamber of Secrets director). I asked him if he might return to the director's seat for a future HP movie. He might! He told me how he was amazed at how the young actors have grown in their craft from having difficulty with one line in the first movie to now being able to do an entire scene. I told him that it is obvious they learned from his wonderful direction. I got a smile for that!
Unfortunately, I did not get to speak to Matthew Lewis (Neville Longbottom), Robbie Coltrane (Rubeus Hagrid) or Alfonso Cuaron. Rupert Grint (Ron Weasley) was wonderful. He loved the energy of the crowd. He spoke about how this film is darker. I asked him if he had a special message for his fans and said to come see the movie. Rupert also left the press line to go over and greet the fans. I even saw him pose with a fan for a picture. It was amazing to watch.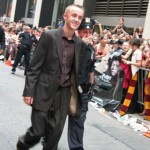 My best moment was interviewing Tom Felton. I asked Tom what it was like being slapped by Emma Watson (Hermione). He exclaimed, "She didn't slap me. She punched me!" He went on to comment how it didn't look good for his manhood. I asked him if he would ever date a fan since I know so many of our visitors want to know. He said absolutely! When we were done, I shook his hand. (Yes, I have washed it by now. I really didn't want to.)
Another great moment was when Alan Rickman (Prof. Severus Snape) came by; the crowd was so loud that he commented he couldn't hear me. He then turned and leaned in towards me so I could ask my question. It was a definite high point in my life! I commented on how his character is written as "not such a nice guy" and asked him if he is amazed at the popularity of his character, especially all the fan sites that exist dedicated to him. His answer was that the character is so complex and the fans see that. He acts a certain way yet he continues to save the lives of the Harry and his friends, even in the third movie. He admitted today will be his first time seeing Azkaban.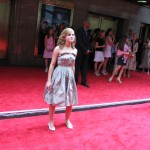 I was barely able to speak to Emma Watson (Hermione Granger). It was so chaotic and she couldn't hear me. When Daniel Radcliffe (Harry Potter) came by it was sheer madness. Everyone wanted to talk to him. I had to be quick so I asked him if there were any further plans to continue playing Harry. I was hoping for an update. He replied there were no plans beyond the fourth movie. I told him I hope he does all the movies.
After Daniel was finished with the press, the cast and crew posed for a nice group shot. They then proceeded inside to see the film. I stayed around to talk with some fans. Everyone had a great time. I could not stop smiling. It was an amazing event and I am so pleased to be able to report all that I experienced.
I wish to give thanks to Warner Bros. for allowing fan site representation on the red carpet. I also have to mention Diana who assisted me in the press area and Belkis and Anna who took pictures from the fan area.