News articles tagged 'Harry Potter Books'
Scholastic to publish new versions of 'Harry Potter' books with cover artwork by Brian Selznick
21 April 2018 at 04:15 GMT
Scholastic, the US publisher of the Harry Potter books, will republish all seven novels with new cover artwork by Brian Selznick. The new editions will commemorate the 20th anniversary of the publication of Harry Potter and the Sorcerer's Stone in the US and will be released in June.
Selznick's seven black and white drawings combine to form a single image, "telling Harry's story from his arrival at Privet Drive to the Battle of Hogwarts".
Says the artist, "I'm a huge Harry Potter fan (a proud Hufflepuff!) and to be asked to illustrate the 20th anniversary edition covers was an absolute honour … one of the most challenging and rewarding aspects of the process was drawing seven independent covers that would stand on their own, while making sure that they also lined up to create one single satisfying image. It took dozens and dozens of sketches to get it right, and I am thrilled to share my great love for the books with these new illustrations".
Bloomsbury announce deluxe edition of upcoming 'Philosopher's Stone' illustrated edition
15 July 2015 at 22:08 GMT
Bloomsbury today announced plans to release a deluxe version of the upcoming Harry Potter and the Philosopher's Stone illustrated edition. Like the regular illustrated edition, it will feature new art by illustrator Jim Kay.
The deluxe illustrated edition of J.K. Rowling's timeless classic will feature an exclusive pull-out double gatefold of Diagon Alley; intricate foiled line art by Jim Kay on a real cloth cover and slipcase; gilt edges on premium grade paper; head and tail bands and two ribbon markers. It is the ultimate must-have edition for any fan, collector or bibliophile. This edition will be sold exclusively from the Bloomsbury.com website until March 2016 when it will be made available to retail outlets.
The deluxe illustrated edition will be released on 5 November. Learn more about the illustrated editions right here. Read on to explore some of the Diagon Alley shops in more detail.
Explore the new artwork in the Harry Potter illustrated editions
6 July 2015 at 08:37 GMT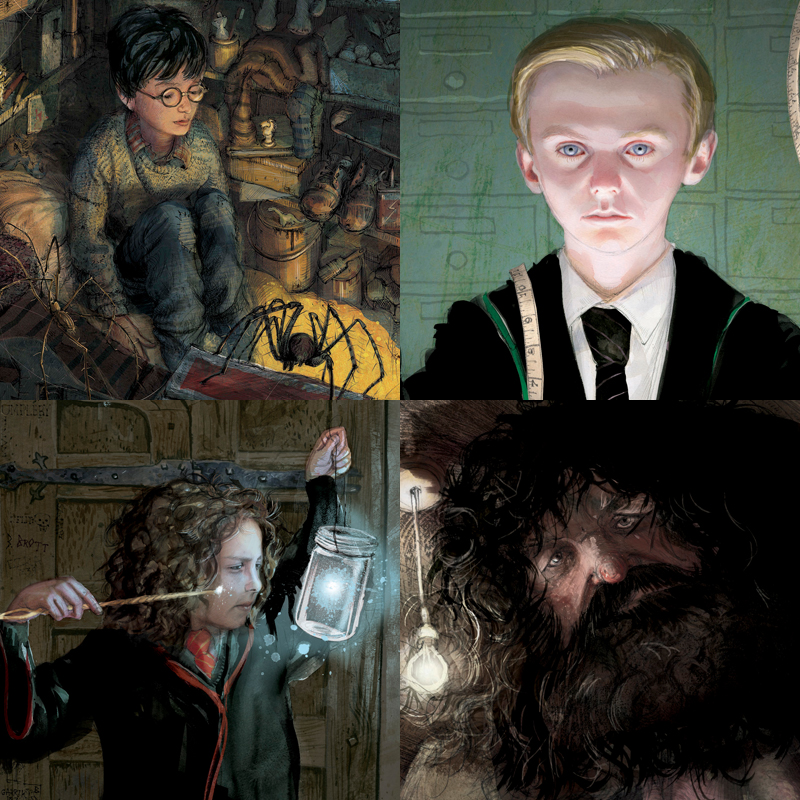 Bloomsbury to rerelease children's editions of all seven Harry Potter novels; new artwork by Jonny Duddle
20 March 2014 at 09:12 GMT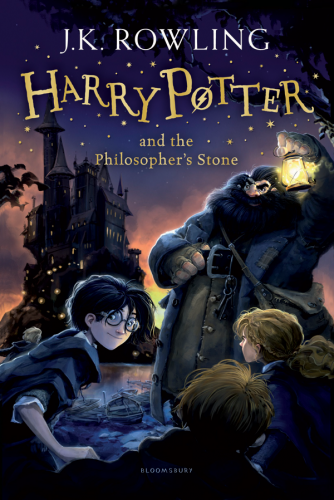 Last year we reported that UK publisher Bloomsbury were planning to rerelease the entire Harry Potter series with new art from illustrator Jim Kay. Today, Bloomsbury announced they'll be rereleasing the children's paperback and hardback editions with new artwork from Jonny Duddle.
Together, Bloomsbury and J.K. Rowling selected Jonny Duddle to be the new artist for the Harry Potter books. Jonny will create front, back and spine artwork for each. On being chosen to design the covers Jonny Duddle said "I'm hugely excited to work my way through the wonderful books. I couldn't have asked for more enjoyable subject matter. It's exciting, daunting and I feel the weight of responsibility, and I'm just hoping that my illustrations faithfully reflect the characters and world created by J.K.Rowling"
All seven new editions will be published on 1 September 2014 and will include bonus Pottermore material. The editions illustrated by Jim Kay will be available in 2015.
Bloomsbury releasing full-colour editions of entire 'Harry Potter' series starting in 2015
6 December 2013 at 09:12 GMT
Update: See more art from the first illustrated edition
Bloomsbury today announced that they will publish full–colour editions of all seven Harry Potter novels illustrated by artist Jim Kay. The first book in the series, Harry Potter and the Philosopher's Stone, will be released in 2015.
Jim Kay, winner of the 2012 Kate Greenaway Medal, will illustrate all seven books in full-colour and design the new book jacket image as well as the inside artwork. A lifelong Harry Potter fan, Jim Kay says: 'From my point of view it is, without doubt, the commission of a lifetime …to design the characters, the clothing, the architecture and landscapes to possibly the most expansive fantasy world in children's literature, well let's just say I'm extremely excited about it. However, I am also mindful of the huge responsibility this represents. I want to make sure I do the best job I possibly can.'
You can see more of Jim's illustrations over at his official website.