News articles tagged 'Jessie Cave'
New interview with Jessie Cave (Lavender Brown)
24 June 2009 at 00:12 GMT

The HeroComplex Blog in the LA Times has featured a new interview with Jessie Cave, who plays Lavender Brown in Harry Potter and the Half-Blood Prince. Jessie specifically discusses "the big kissing scene" in detail, explaining that Rupert was scared, she was nervous, and all those nerves collectively made for the perfect kissing scene – as well as for some major laughs after filming. A cool excerpt from the interview:
How is Lavender introduced?
She's in the Weasleys' Wizard Wheezes shop and she's kind of ogling Ron. She's been going to school with them for years, but it's not that she's making her interests known.
Jessie Cave returns as 'Lavender Brown' in DH
22 April 2009 at 00:11 GMT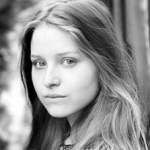 Jessie Cave's agency has recently confirmed that Jessie will reprise her role as 'Lavender Brown' in Harry Potter and the Deathly Hallows.