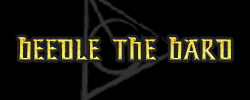 Download Beedle the Bard to recreate the lettering in Hermione Granger's copy of The Tales of Beedle the Bard (the book bequeathed to Hermione by Albus Dumbledore), as seen in Harry Potter and the Deathly Hallows: Part 1.
Download link appears below advertisement
Download Beedle the Bard font (.zip, 160KB)
More free Harry Potter fonts
Looking for more free Harry Potter fonts?
Download more of our favourite Wizarding World fonts below.