News articles tagged 'Goblet of Fire'
Bloomsbury to publish deluxe version of 'Goblet of Fire' illustrated edition
24 May 2019 at 15:09 GMT
Bloomsbury will publish a deluxe version of the Harry Potter and the Goblet of Fire illustrated edition alongside the standard edition on 8 October of this year.
According to the publisher the deluxe edition features, 'real cloth cover and slipcase, intricate foiled line art decorating both case and slipcase; an opulent large format; gilt edges, illustrated endpapers, head and tail bands [and] two ribbon markers.' It also includes a never before seen sketch of Hogwarts by artist Jim Kay.
Fans who pre-order the deluxe edition will receive an exclusive black and gold tote bag adorned with a dragon sketch. You can pre-order both editions over at Bloomsbury's website.
Bloomsbury unveil Jim Kay's 'Goblet of Fire' illustrated edition cover artwork
12 March 2019 at 22:10 GMT
Harry Potter publisher Bloomsbury today unveiled Jim Kay's glorious cover artwork for the Goblet of Fire illustrated edition. The cover artwork is reminiscent of many of the Goblet of Fire jackets over the years, featuring Harry facing the Hungarian Horntail during the first task.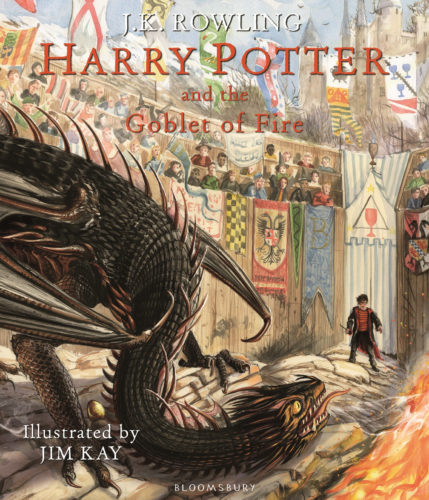 The Goblet of Fire illustrated edition will be published on 8 October of this year. Both a regular and deluxe version are currently available for preorder.
Robert Pattinson felt filming 'Harry Potter' was easier
3 March 2009 at 03:07 GMT

Robert Pattinson reportedly found filming Harry Potter and the Goblet of Fire easier and less stressful than filming Twilight:
"It's different. When I was doing Harry Potter, which I did, there already had been three made. It was already a slick machine by the time I got into it. Whereas with Twilight, people didn't realize really what it was, the extent of what it was, and it kept growing and growing."