Book 3: Harry Potter and the Prisoner of Azkaban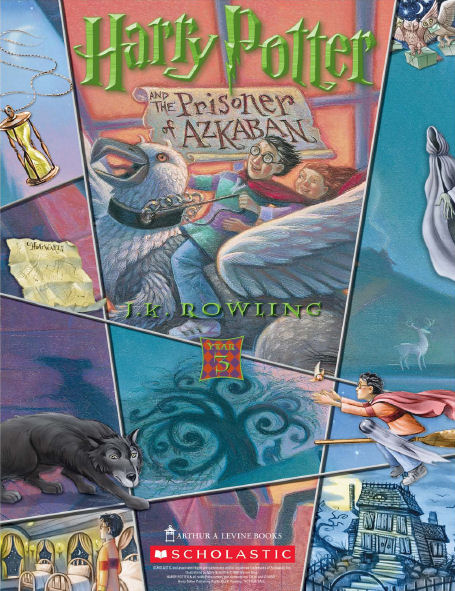 Author: Joanne Kathleen Rowling
Illustrators:
US Edition: Mary GrandPré
UK Children's: Cliff Wright
Publishers:
US: Scholastic Inc. (Arthur Levine Imprint)
UK: Bloomsbury Publishing Plc
Worldwide Publishers
Dedication:
To Jill Prewett
and Aine Kiely,
the Godmothers of Swing.
Chapters: Twenty-two (22)

Word Count: 107,253 words
– For the US Edition
Hardcover Releases:
US Edition: September 8, 1999
UK Children's: July 8, 1999
Description: Harry is in his third year at Hogwarts School of Witchcraft and Wizardry. It's always a relief after summer with the Dursleys. However, Harry doesn't realise that this year will be just as eventful as the last two! The atmosphere at Hogwarts is tense. There's an escaped mass murderer on the loose, even the Muggles have been warned. The sinister prison guards of Azkaban have been called in to guard the school and Harry, Ron and Hermione rapidly discover why all witches and wizards live in fear of being sent to Azkaban. Lessons, however, must go on and there are lots of new subjects in third year — Care of Magical Creatures and Divination among others. Plus the delights of Hogsmeade, the only village in the UK entirely populated by the magical community.
Cover and chapter artwork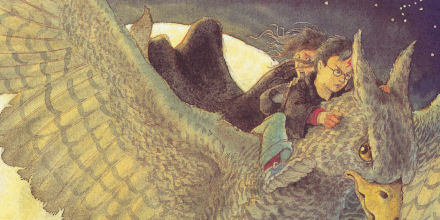 Chapter titles
1. Owl Post
2. Aunt Marge's Big Mistake
3. The Knight Bus
4. The Leaky Cauldron
5. The Dementor
6. Talons and Tea Leaves
7. The Boggart in the Wardrobe
8. Flight of the Fat Lady
9. Grim Defeat
10. The Marauder's Map
11. The Firebolt
12. The Patronus
13. Gryffindor Versus Ravenclaw
14. Snape's Grudge
15. The Quidditch Final
16. Professor Trelawney's Prediction
17. Cat, Rat and Dog
18. Moony, Wormtail, Padfoot and Prongs
19. The Servant of Lord Voldemort
20. The Dementor's Kiss
21. Hermione's Secret
22. Owl Post Again