Book 4: Harry Potter and the Goblet of Fire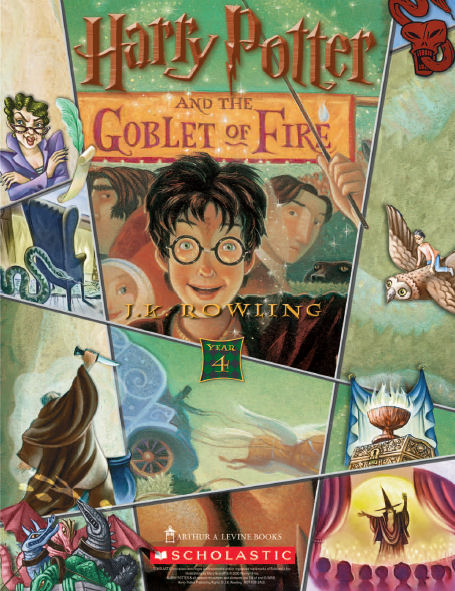 Author: Joanne Kathleen Rowling
Illustrators:
US Edition: Mary GrandPré
UK Children's: Giles Greenfield
Publishers:
US: Scholastic Inc. (Arthur Levine Imprint)
UK: Bloomsbury Publishing Plc
Worldwide Publishers
Dedication:
To Peter Rowling, in memory of Mr. Ridley
and to Susan Sladden, who helped Harry
out of his cupboard.
Chapters: Thirty-seven (37)
Word Count: 190,637 words
– For the US Edition
Hardcover Releases:
US Edition: July 8, 2000
UK Children's: July 8, 2000
Description: It is the summer holidays, and one night Harry Potter wakes up with his scar burning. He has had a strange dream, one that he can't help worrying about … until a timely invitation from Ron Weasley arrives: to nothing less than the Quidditch World Cup.
Soon Harry is reunited with Ron and Hermione and gasping at the thrills of an international Quidditch match. But then something horrible happens which casts a shadow over everybody, and Harry in particular.
Cover and chapter artwork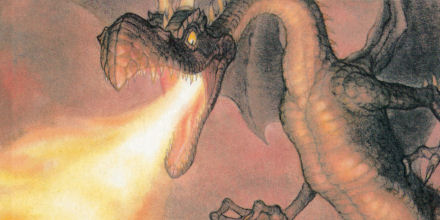 Chapter titles
1. The Riddle House
2. The Scar
3. The Invitation
4. Back to the Burrow
5. Weasleys' Wizard Wheezes
6. The Portkey
7. Bagman and Crouch
8. The Quidditch World Cup
9. The Dark Mark
10. Mayhem at the Ministry
11. Aboard the Hogwarts Express
12. The Triwizard Tournament
13. Mad-Eye Moody
14. The Unforgivable Curses
15. Beauxbatons and Durmstrang
16. The Goblet of Fire
17. The Four Champions
18. The Weighing of the Wands
19. The Hungarian Horntail
20. The First Task
21. The House-Elf Liberation Front
22. The Unexpected Task
23. The Yule Ball
24. Rita Skeeter's Scoop
25. The Egg and the Eye
26. The Second Task
27. Padfoot Returns
28. The Madness of Mr. Crouch
29. The Dream
30. The Pensieve
31. The Third Task
32. Flesh, Blood and Bone
33. The Death Eaters
34. Priori Incantatem
35. Veritaserum
36. The Parting of the Ways
37. The Beginning