News articles tagged 'Illustrated editions'
Bloomsbury to publish 'Quidditch Through the Ages' illustrated edition with artwork by Emily Gravett
1 April 2019 at 18:14 GMT
An illustrated version of Quidditch Through the Ages with new illustrations by artist Emily Gravett is on the way. Bloomsbury today announced their intention to turn the textbook into a full-colour illustrated edition for release in October 2020.
Bloomsbury Children's Books today announce Emily Gravett as the artist who will create stunning images for an illustrated edition of J.K. Rowling's Quidditch Through the Ages, sold in aid of Comic Relief and the author's international children's charity, Lumos. Publishing on 1st October 2020, this classic from the Hogwarts Library will be gloriously reimagined in a large, colour gift edition by the innovative and award-winning Gravett. She will use mixed media to capture the wit and spirit of J.K. Rowling's wonderful text, using a deft combination of her signature pencil style, colour illustration, handmade realia and ingenious digital techniques.

Emily Gravett is a bestselling author/illustrator and has won the Kate Greenaway Medal twice. On being commissioned for this project, Emily said, 'I am over the moon to be illustrating Quidditch Through the Ages. I never in my wildest dreams imagined that I would ever be asked to illustrate anything from the Potter world, but from the minute I sat down at my desk and started jotting down ideas I realised I may have landed myself my dream job. I am waking up each day excited to get to work. '

Mandy Archer, Harry Potter Editorial Director and Head of Brand, said of Emily's selection, 'When we began our search to find an illustrator for Quidditch Through the Ages, Emily was always at the very top of our wishlist. She is a true original. Emily has the courage to take form and content into exciting and unexpected directions, infusing her work with an infectious sense of playfulness and fun. We cannot wait to see where she is going to take this brand new illustrated edition. '

Emily Gravett was born in Brighton. After leaving school with few qualifications, she spent eight years living on the road before taking the BA Illustration course at Brighton University. She won the Macmillan Prize for Illustration with her first book, Wolves, which went on to win the Kate Greenaway Medal and the Boston Globe Horn Book Honor Award for Illustration and marked the beginning of an international career creating extraordinary and innovative books for children: Little Mouse's Big Book of Fears won the Kate Greenaway Medal for her a second time. Her own picture books are published in more than 20 languages and she has also collaborated with some of the most creative writers working today including Julia Donaldson, A.F. Harrold, and Matt Haig.

Gravett joins fellow Greenaway winners Chris Riddell and Jim Kay, and fine artist Olivia Lomenech Gill in a world-class team of illustration talent chosen to create colour illustrated editions of J.K. Rowling's Harry Potter and Hogwarts Library books.

Quidditch Through the Ages was first published in 2001 and is arguably the most famous sports book in the wizarding world. The book contains all you will ever need to know about the history, the rules – and the breaking of the rules – of the noble sport of Quidditch. Packed with fascinating facts, this definitive guide charts the game's history from its early origins through to the modern-day sport loved by so many wizard and Muggle families around the world. With comprehensive coverage of famous Quidditch teams, the commonest fouls, the development of racing brooms, and much more, this is a must-have sporting tome for all Harry Potter fans, Quidditch lovers and players. Quidditch Through the Ages is published in aid of Comic Relief and Lumos.
Bloomsbury unveil Jim Kay's 'Goblet of Fire' illustrated edition cover artwork
12 March 2019 at 22:10 GMT
Harry Potter publisher Bloomsbury today unveiled Jim Kay's glorious cover artwork for the Goblet of Fire illustrated edition. The cover artwork is reminiscent of many of the Goblet of Fire jackets over the years, featuring Harry facing the Hungarian Horntail during the first task.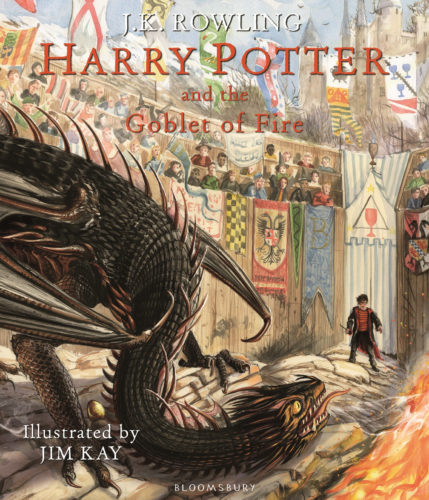 The Goblet of Fire illustrated edition will be published on 8 October of this year. Both a regular and deluxe version are currently available for preorder.
Bloomsbury to publish paperback 'Chamber of Secrets' illustrated edition
14 February 2019 at 22:31 GMT
Bloomsbury will publish a paperback version of the Chamber of Secrets illustrated edition from 22 August. The paperback version features new jacket artwork and is 'redesigned in a smaller format for smaller hands'. It will include 60% of the illustrations from the 2016 hardback edition, as well as a pullout poster of Diagon Alley.
You can preorder the paperback version over at Bloomsbury's website.
New images from Bloomsbury's illustrated 'The Tales of Beedle the Bard', launch events with Chris Riddell
24 September 2018 at 16:21 GMT
Bloomsbury have kindly let us know that Chris Riddell, illustrator of the new UK edition of The Tales of Beedle the Bard, will be signing copies of the book and participating in a number of launch events next month. Check out some gorgeous new illustrations from the book below:
Bloosmbury reveals cover for new illustrated edition of 'The Tales of Beedle the Bard'
18 May 2018 at 02:35 GMT
UK publisher Bloomsbury today revealed the cover artwork for the new illustrated edition of J.K. Rowling's The Tales of Beedle the Bard. The new edition is illustrated by Chris Riddell, and will be available in October.
Bloomsbury Children's Books today reveals the cover of the full-colour Illustrated Edition of J.K. Rowling's The Tales of Beedle the Bard illustrated by Chris Riddell. The cover brings together some of the main characters from the five wizarding fairytales in the book, including Babbitty Rabbitty and the Hopping Pot. Much loved by generations of witches and wizards since they first appeared in the fifteenth century, this beautifully illustrated edition is set to become a firm favourite at bedtime in non-magical households the world over.

Publishing on 2nd October 2018, The Tales of Beedle the Bard Illustrated Edition features show-stopping illustrations for all five tales and Dumbledore's accompanying notes. Chris Riddell, three times winner of the Kate Greenaway Medal, bestselling author and former Children's Laureate, brings J.K. Rowling's text to life with beautiful ink and watercolour artwork.

Proceeds from the sale of this edition will go to J.K. Rowling's own international charity Lumos, which helps some of the world's most vulnerable children and young people to have a better life.
New images from the 'Prisoner of Azkaban' illustrated edition
6 October 2017 at 04:02 GMT
A number of new images from the Harry Potter and the Prisoner of Azkaban illustrated edition have been revealed, which was released this week.