Funko to release Pop! figure of Harry's stag Patronus
26 November 2019 at 20:14 GMT
Funko's next Harry Potter Pop! Vinyl figure is a gorgeous translucent stag Patronus, while Hermione and Ron's otter and dog Patronuses are soon to follow. The new Pop! figure will be released on 4 December as a Wizarding World pre-release before a general release at some point after that.
A pre-release means the Funko figure is available for a limited time at an exclusive location before the general public can purchase it — this time around that lucky vendor is WizardingWorld.com (formerly Pottermore). To be eligible to grab the stag in the pre-release phase you'll need to sign up for a Wizarding Passport and visit the official Wizarding World online store from 4 December at 11am ET/4pm GMT.
If you're interested in where Funko are going next: a Hot Topic exclusive Buckbeak the Hippogriff is coming next month, followed by Nymphadora Tonks in March and then a number of new scenes including Harry with an invisibility cloak, Ron vomiting slugs, Dumbledore with baby Harry, Hermione levitating a feather and Neville with the Monster Book of Monsters. Watch this space for more details!
Tags:
Funko
-
Comments Off

on Funko to release Pop! figure of Harry's stag Patronus
-
Permanent Link
James and Oliver Phelps launch 'Harry Potter' exhibition in Portugal
18 November 2019 at 17:19 GMT
Actors James and Oliver Phelps (Fred and George Weasley in the Harry Potter films) and graphic design duo MinaLima (Miraphora Mina and Eduardo Lima) were on hand over the weekend to officially launch Harry Potter: The Exhibition in Lisbon.
Since 2009, Harry Potter: The Exhibition has been touring the globe bringing Wizarding World props, costumes and artefacts in front of Muggle eyes. The Weasley twin actors have travelled the globe promoting the travelling exhibition and when I spoke with them at the Sydney launch in 2011 we learned that 23 shipping containers were required to carry an enormity of magical props to locations across the world.
Portuguese fans can catch Harry Potter: The Exhibition at Lisbon's Pavilion of Portugal through until April 8. Tickets are available over at the exhibition website. (If you're walking through the Great Hall set, make sure to look out for authentic James and Oliver Phelps graffiti carvings on the Gryffindor table.)
Jim Kay talks about inspiration and processes for illustrating 'Potter'
15 November 2019 at 14:54 GMT
Jim Kay, the talented artist behind the Harry Potter illustrated editions, was recently profiled in a wonderful piece by the New York Times. In the profile, Kay talks about his artistic processes, character inspiration and the challenge of giving new illustrative form to a franchise already marked by such recognisable visuals.
On illustrating a story like Harry Potter, Kay explains, 'the problem with fantasy books is these things don't normally exist, so you have to create them to give them a sense of reality'. Adds the illustrator: 'you're trying to get people to buy into an alternative world. The more you can seat it in apparent reality, the better it works. On a more practical level, it's much easier to draw if you have something in front of you. If it doesn't exist, I make it'.
The wealth of existing 'Potter' imagery (courtesy of the Warner Bros. film series) presented interesting challenges for Kay. 'It was very difficult because I'm very fond of the films. The only way to do it was to start from scratch. I built the landscape first, really physically built it with models … after that, I recast the film and I used people I know'. Kay modelled Ron, Ginny and Molly Weasley on real mother, daughter and son, and adds, 'my niece is a perfect Hermione … it took about two years, but now I think of my world and not the film one'.
And the hardest character to draw? 'Harry' says Kay. 'Also because he wears glasses and glasses are a nightmare to draw … I've literally smashed up and thrown stuff across the room in frustration trying to draw Harry.'
The Harry Potter and the Goblet of Fire illustrated edition — the fourth in the series — was released last month. Jim Kay is currently hard at work on the Order of the Phoenix sequel (he mentions the Thestrals as a favourite character) which will be released in late 2021.
New MinaLima print celebrates Harry's first Quidditch match
8 November 2019 at 23:19 GMT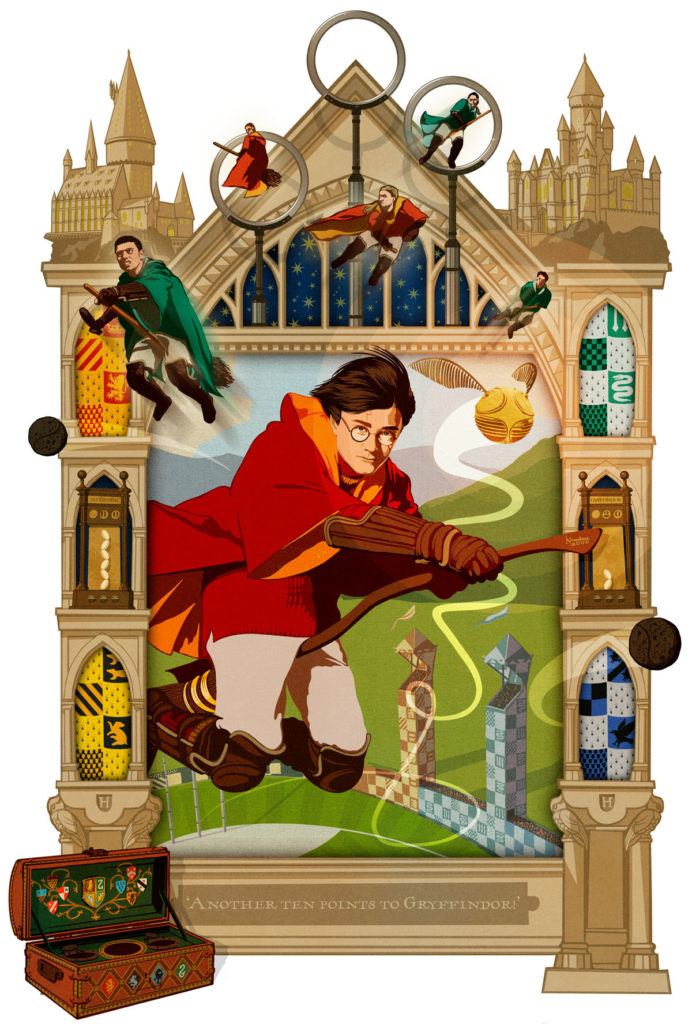 MinaLima, the graphic design duo behind all of the graphics in the Harry Potter and Fantastic Beasts films, have revealed the fifth in their series of magical 'Potter' moment graphic prints. Titled 'Another 10 Points to Gryffindor', the numbered print celebrates Harry's first Quidditch match and is available in both a standard and premium finish over at MinaLima's website.
The first four prints in the series commemorate iconic moments from Harry's first story and are also available from MinaLima's website.
MinaLima release 'Harry Potter' wrapping paper collection
29 October 2019 at 20:36 GMT
Graphic design magicians Miraphora Mina and Eduardo Lima (MinaLima), the designers responsible for all of the glittering graphics in the Harry Potter and Fantastic Beasts films, have released an enchanting collection of Wizarding World themed Christmas wrapping paper.
Five of the seven designs (above) — the Marauder's Map, Black family tree, Quidditch, Hogwarts Library books and Daily Prophet newspapers — were unveiled in a recent wallpaper collection. Two new designs, Santa's Sleigh and Christmas Elf, were first seen onscreen in Order of the Phoenix (2007) when Arthur Weasley and family exchange Christmas gifts at Grimmauld Place following Mr. Weasley's snake attack.
Each design includes two sheets of single-sided folded gift wrap measuring 50 x 70cm and costs £5.95. All of the amazing designs can be pre-ordered over at MinaLima's website or at their House of MinaLima London gallery at 26 Greek Street from Monday 4 November.