News articles tagged 'MinaLima'
Bloomsbury to auction Patronus postcards to celebrate 'Azkaban' 20th anniversary
9 July 2019 at 11:32 GMT
Bloomsbury will auction 26 original postcards of Patronus animals, with proceeds going to the UK's largest reading charity, BookTrust. A number of famous artist and illustrators — including 'Potter' designers Jim Kay, Chris Riddell, Emily Gravett, Levi Pinfold and MinaLima – have contributed to the project.
The auction, which coincides with the 20th anniversary of the UK publication of Harry Potter and the Prisoner of Azkaban, will run for 10 days. For UK fans, the postcards will be on display at Waterstones Piccadilly over the next week.
MinaLima reveal second 'Harry Potter' graphic art print
2 May 2019 at 22:37 GMT
Graphic designers MinaLima have revealed the second piece in their Harry Potter graphic art series titled, 'Welcome Harry, to Diagon Alley'. The numbered print is available from the design duo's website in both a standard and premium finish.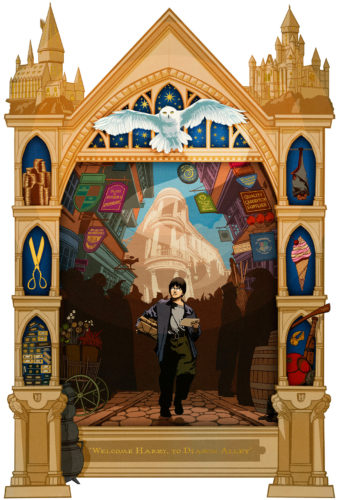 The first print in the series, 'You're a wizard, Harry', was unveiled in March and is the first in a collection of magical 'Potter' moments celebrated in 'iconic MinaLima graphic style'.
MinaLima to release limited edition 'Harry Potter' graphic art prints
4 March 2019 at 16:04 GMT
Harry Potter graphic design duo Miraphora Mina and Eduardo Lima (MinaLima) have launched a brand new series of limited edition 'Potter' graphic design prints.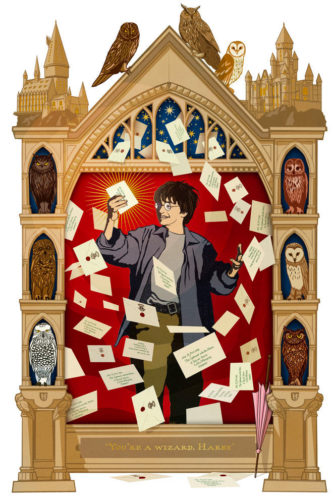 'You're a wizard, Harry is the first print in the new Magical Moments from the Harry Potter films collection. This brand new series celebrates memorable magical moments from the films by reimagining them in the iconic MinaLima graphic style, beginning with this pivotal scene in Harry Potter and the Philosopher's Stone where Harry receives his letter of acceptance to Hogwarts School of Witchcraft and Wizardry™.'
This first print is available in both a standard and premium edition, the latter is embellished with gold foil and signed by Miraphora and Eduardo. If you're a fan of MinaLima's work, you can read our exclusive interview with the design duo right here.
Tags:
MinaLima
-
Comments Off

on MinaLima to release limited edition 'Harry Potter' graphic art prints
-
Permanent Link