News articles from October 2019
MinaLima release 'Harry Potter' wrapping paper collection
29 October 2019 at 20:36 GMT
Graphic design magicians Miraphora Mina and Eduardo Lima (MinaLima), the designers responsible for all of the glittering graphics in the Harry Potter and Fantastic Beasts films, have released an enchanting collection of Wizarding World themed Christmas wrapping paper.
Five of the seven designs (above) — the Marauder's Map, Black family tree, Quidditch, Hogwarts Library books and Daily Prophet newspapers — were unveiled in a recent wallpaper collection. Two new designs, Santa's Sleigh and Christmas Elf, were first seen onscreen in Order of the Phoenix (2007) when Arthur Weasley and family exchange Christmas gifts at Grimmauld Place following Mr. Weasley's snake attack.
Each design includes two sheets of single-sided folded gift wrap measuring 50 x 70cm and costs £5.95. All of the amazing designs can be pre-ordered over at MinaLima's website or at their House of MinaLima London gallery at 26 Greek Street from Monday 4 November.
Cast portraits for San Francisco production of 'Cursed Child' revealed
13 October 2019 at 21:35 GMT
Harry Potter and the Cursed Child will debut later this month in San Francisco, the second US and fourth worldwide location for the 'Potter' stage play. Today, we have our first look at the principal cast in costume.
The Potter family
Benjamin Papac (Albus Severus Potter)
Angela Reed (Ginny Potter)
John Skelley (Harry Potter)
The Granger-Weasley family
David Abeles (Ron Weasley)
Folami Williams (Rose Granger-Weasley)
Yanna McIntosh (Hermione Granger)
The Malfoy family
Lucas Hall (Draco Malfoy)
Jon Steiger (Scorpius Malfoy)
Cursed Child will begin showing at the Curran Theatre in San Francisco from 23 October. Tickets are available from the official website.
MinaLima's fourth 'Harry Potter' print celebrates the Boy Wizard's sorting
5 October 2019 at 00:08 GMT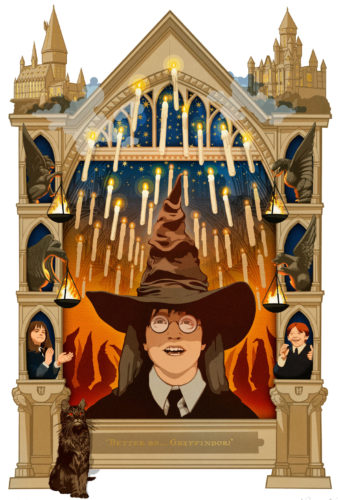 Harry Potter graphic design duo Miraphora Mina and Eduardo Lima (MinaLima) today announced the fourth print in their limited edition 'Potter' magical moments graphic series. Titled 'Better be…Gryffindor!', the new print celebrates Harry's Hogwarts Sorting Hat experience.
The numbered print is available in both a standard and premium finish over at MinaLima's website. The first three prints in the series celebrate Harry's discovery of his magical abilities, as well as his journeys to both Diagon Alley and Hogwarts School of Witchcraft and Wizardry.
MinaLima are the talented team behind all aspects of graphic design in the Wizarding World (that's both Harry Potter and Fantastic Beasts). Earlier this year I had the pleasure of profiling the artists for a behind-the-scenes look at their Harry Potter craft.
Tags:
MinaLima
-
Comments Off

on MinaLima's fourth 'Harry Potter' print celebrates the Boy Wizard's sorting
-
Permanent Link